National School Counseling Week 2023 (#NSCW23) is Feb. 6-10, 2023, to focus public attention on the unique contribution of school counselors within U.S. school systems. The DCSS would like to recognize Ms. Tiffany Deriso, our Dooly County Elementary School Counselor. Thank you for all that you do!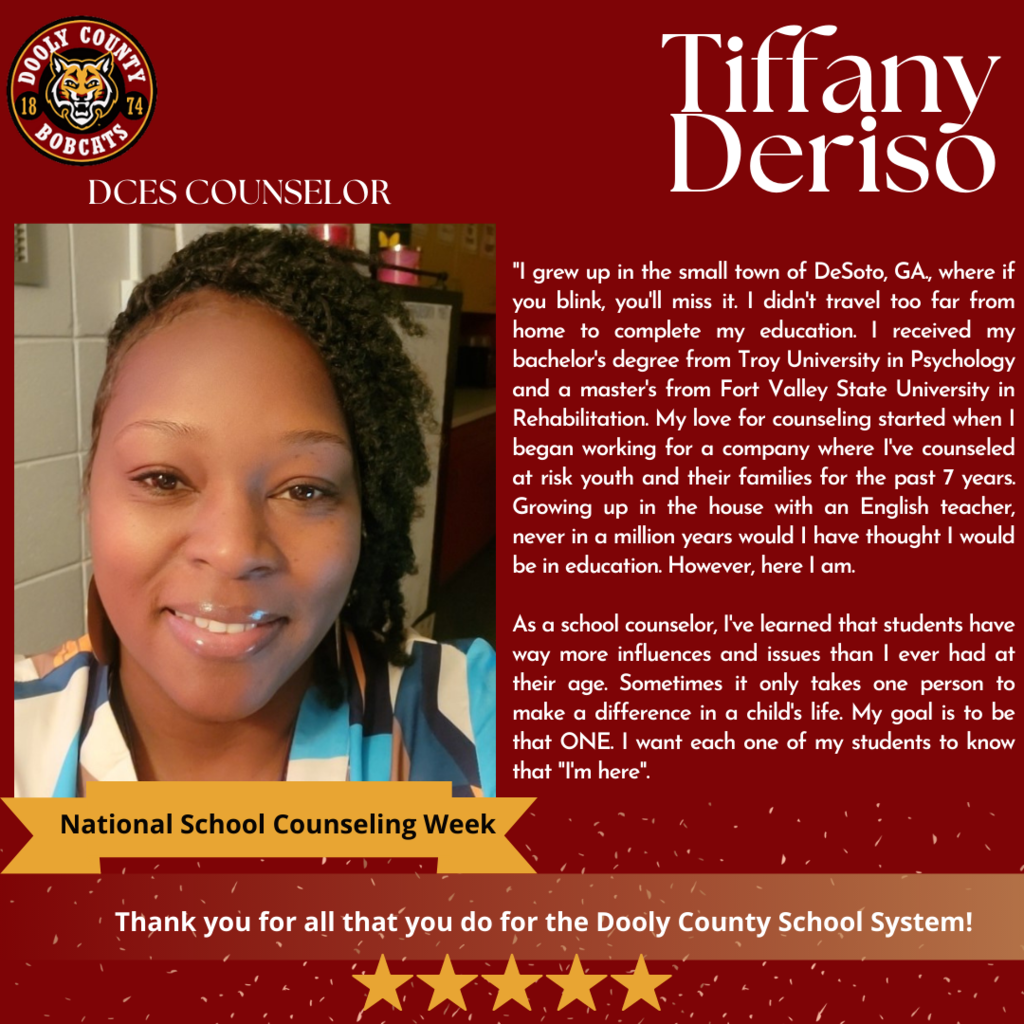 You can view today's DCSS Title III meeting by clicking on the link below. The meeting starts at 8:30 a.m., Thurs., Feb. 2, 2023. DCSS Parent Family Engagement Meeting
https://meet.goto.com/619583549
You can also dial in using your phone. (For supported devices, tap a one-touch number below to join instantly.) United States: +1 (571) 317-3112 - One-touch: tel:+15713173112,,619583549# Access Code: 619-583-549

February food drive/ pantry dates: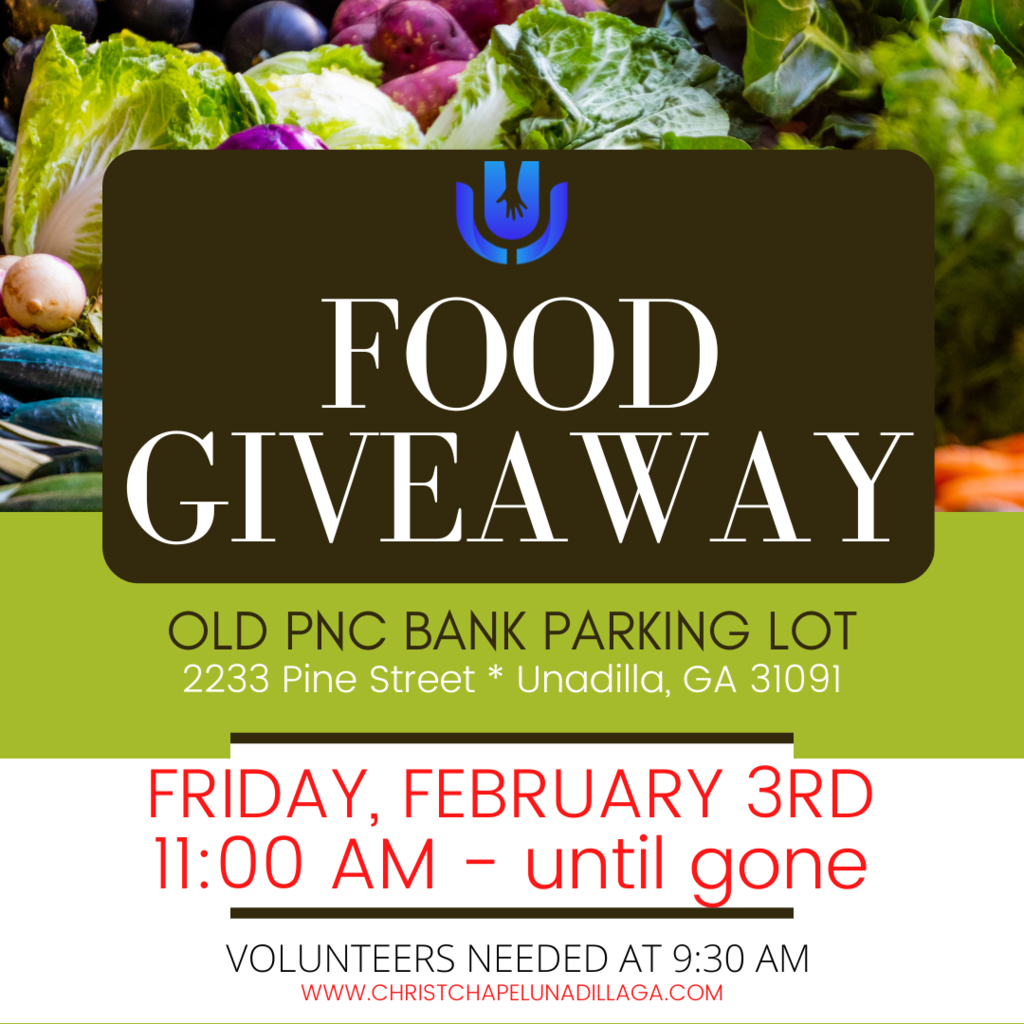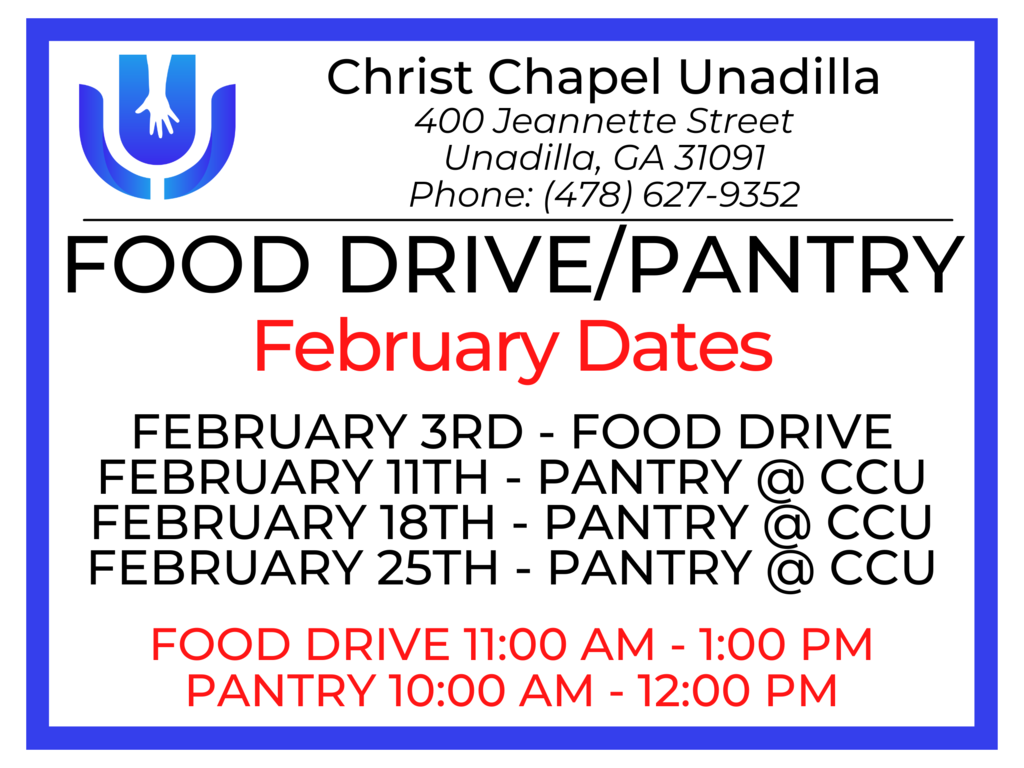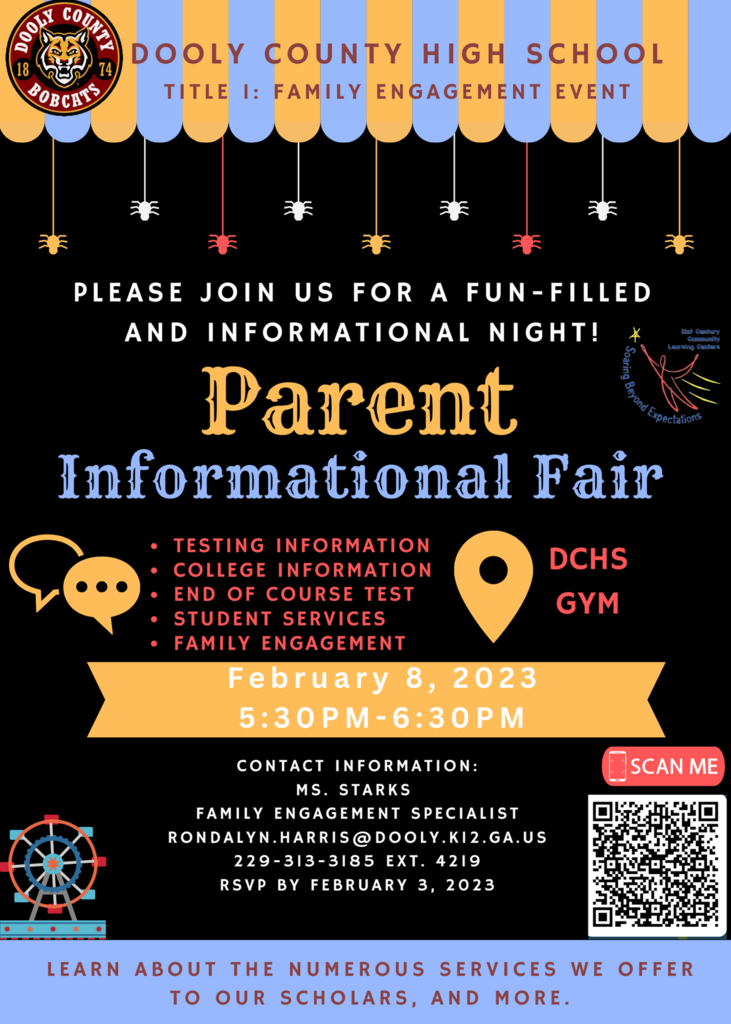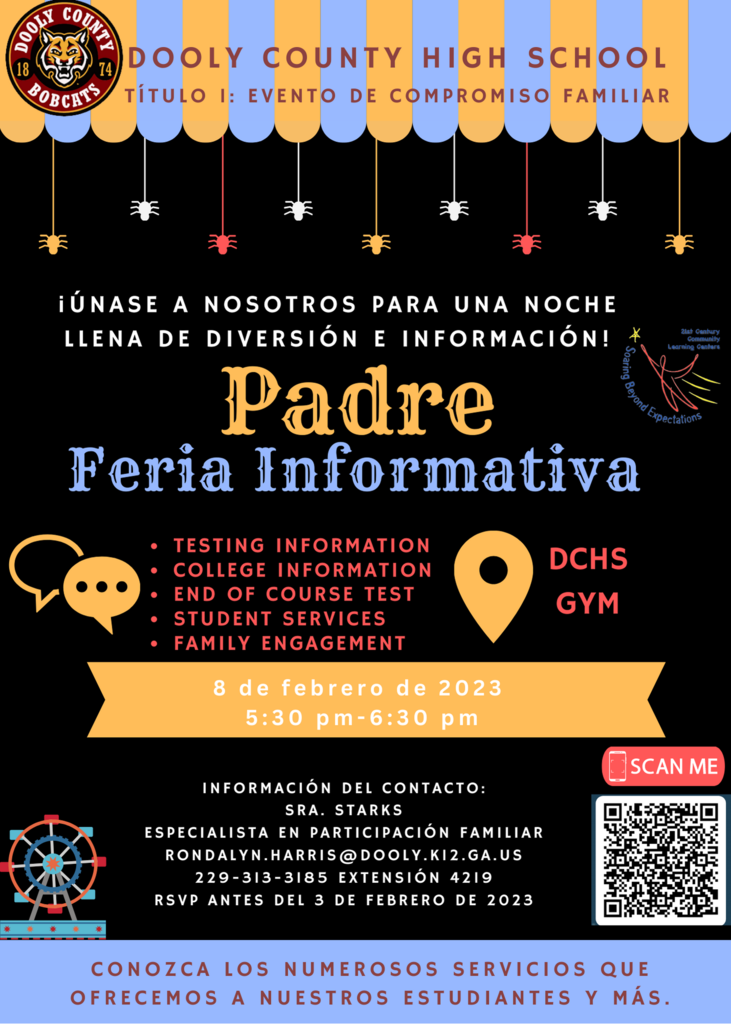 February is Black History Month. The DCSS pays tribute to African Americans throughout history, who overcame adversity and have helped shape our nation!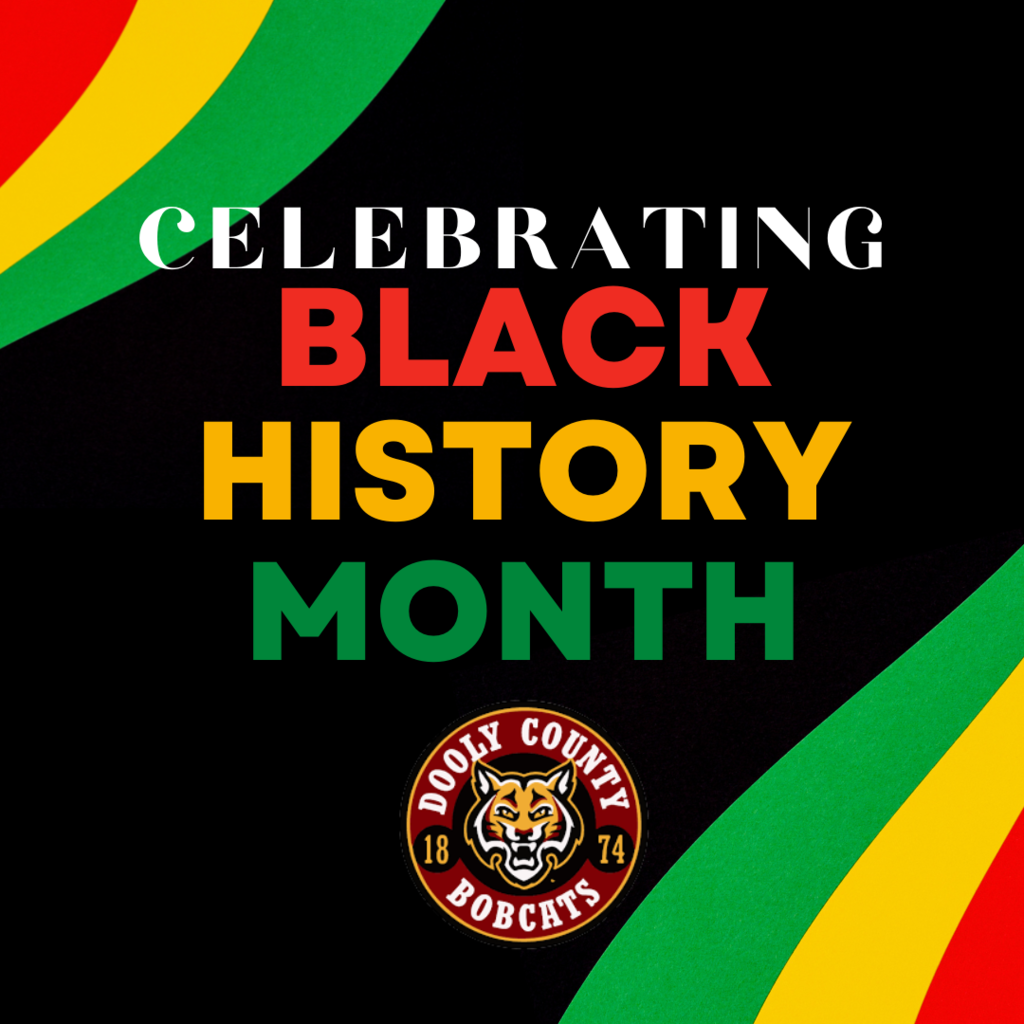 February is Heart Awareness Month and Friday, Feb. 3 is National Wear Red Day. This is a day where we can bring greater attention to heart disease as a leading cause of death for Americans. We are asking students, faculty, and staff to wear red on Friday!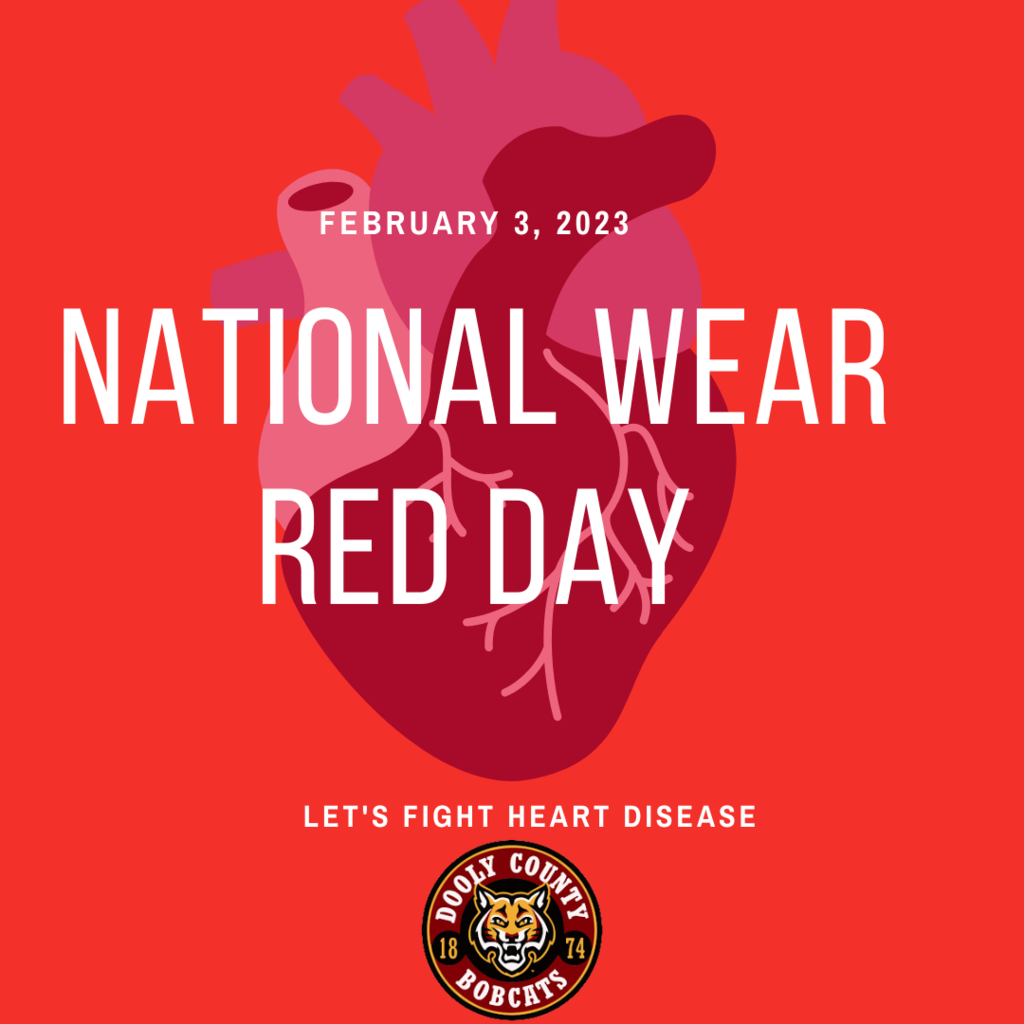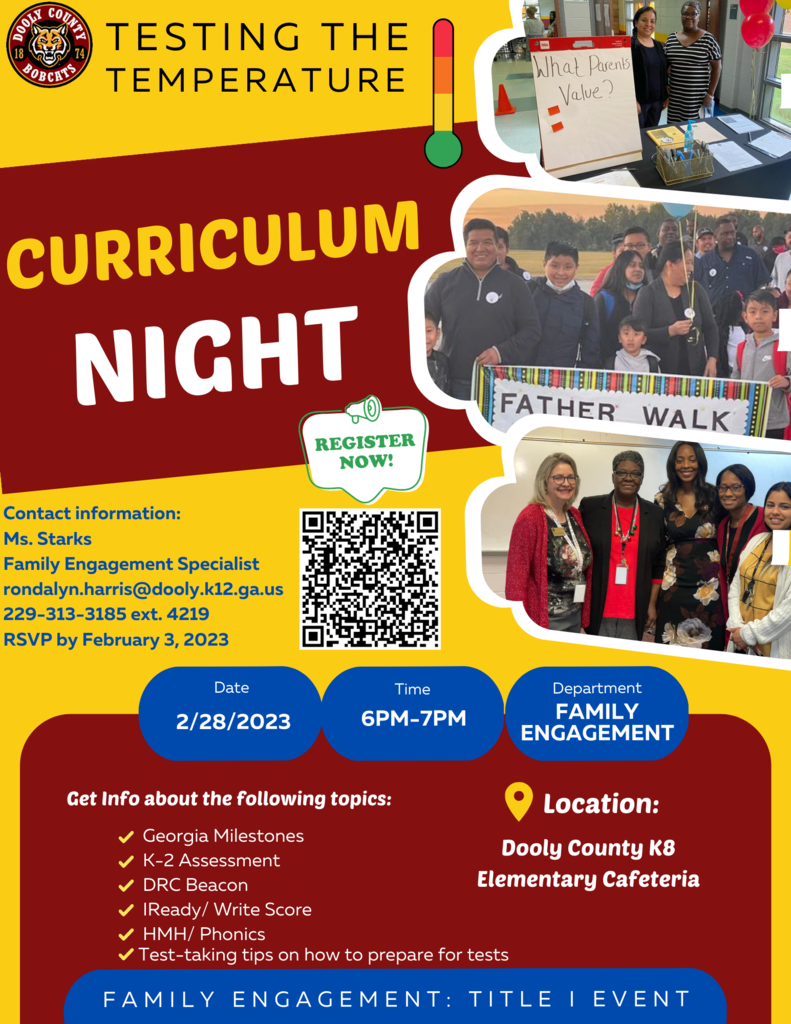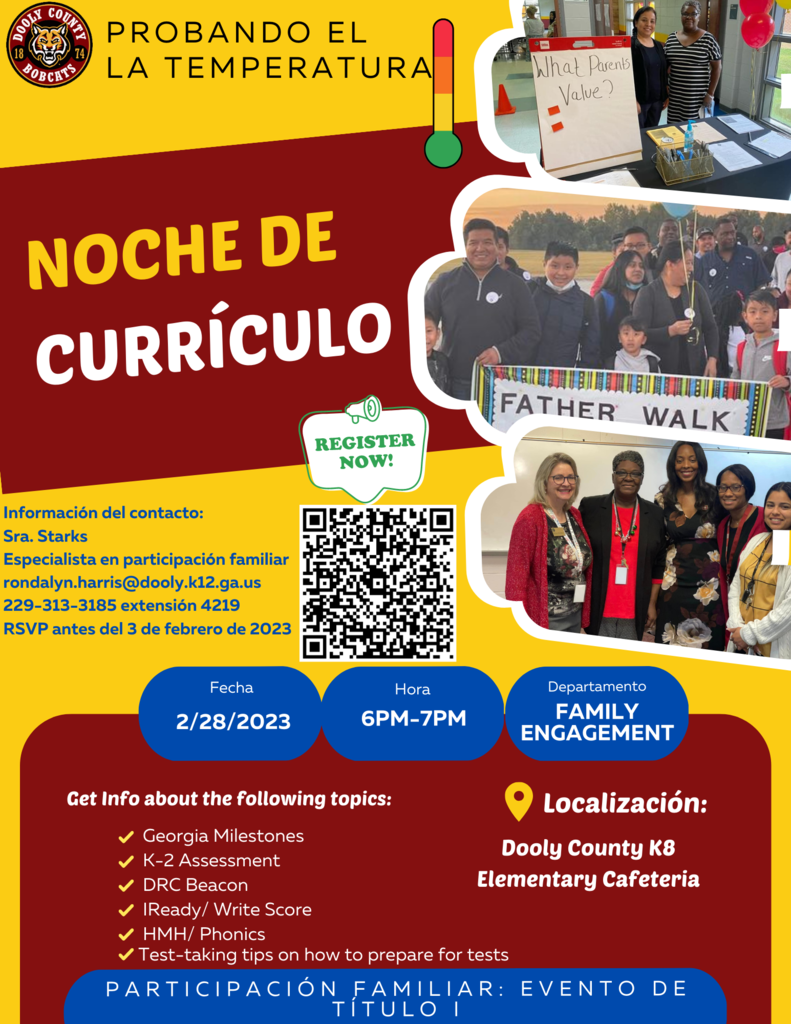 The DCSS 21st CCLC After School Program would like for parents to complete this survey. It is to collect information from parents for an opportunity we would like to provide through our family services. Use the link and QR Code on the flyer to sign up. Thank you!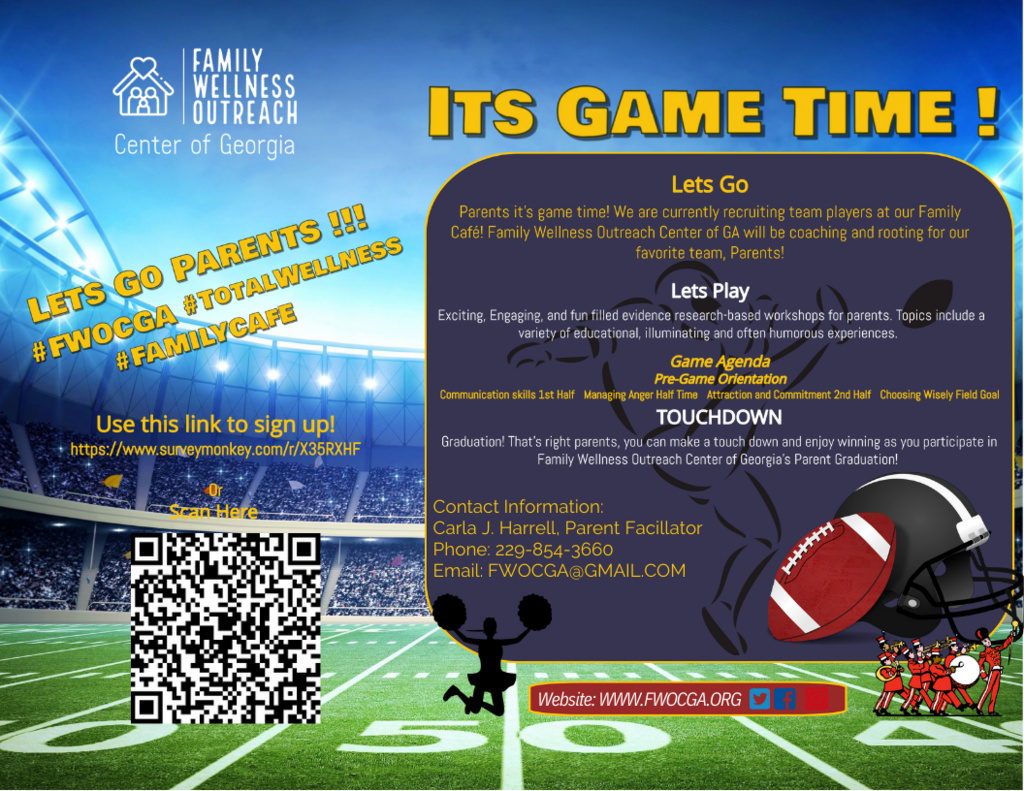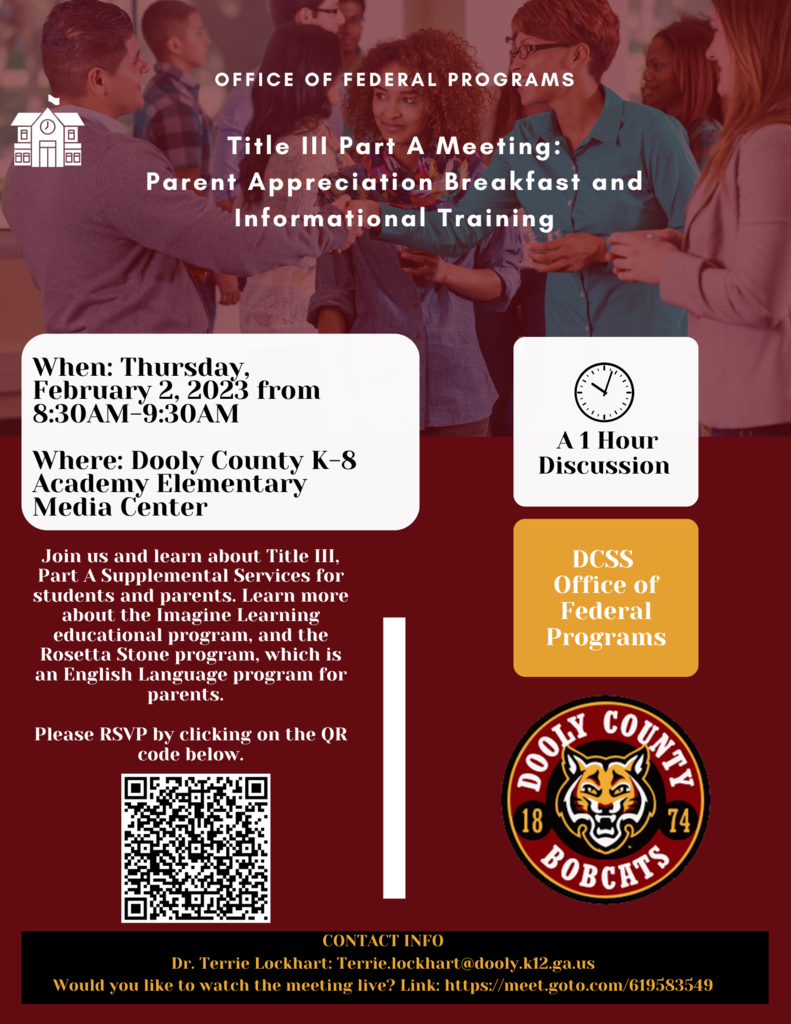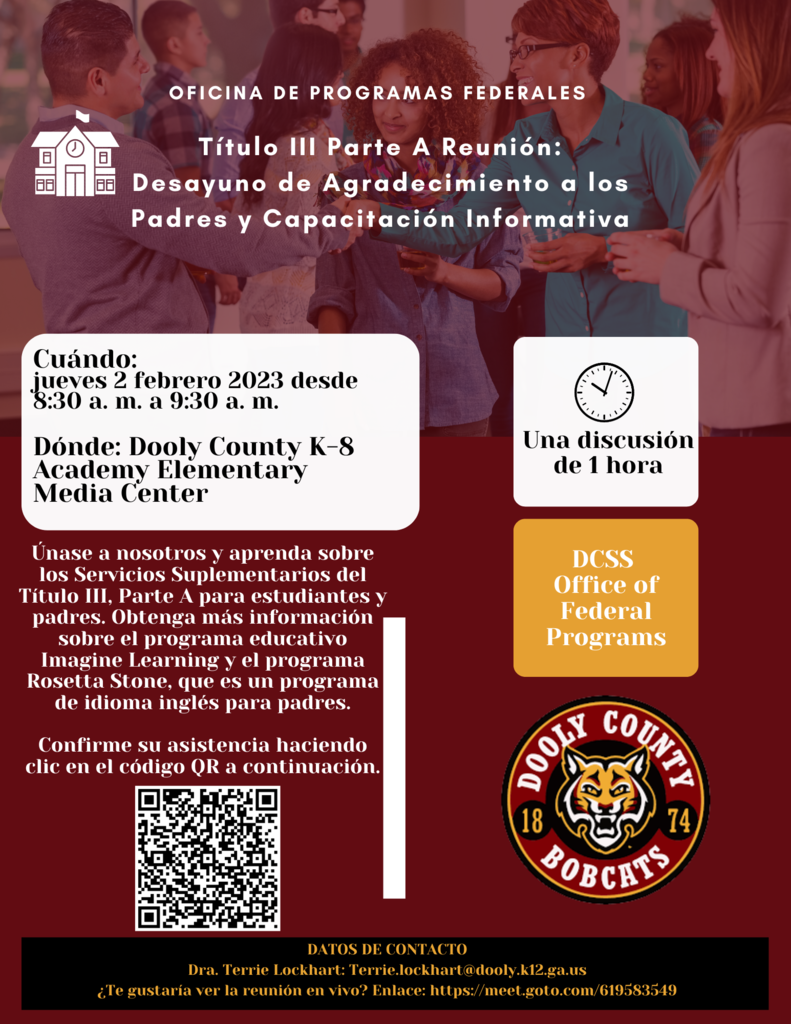 WE ARE HIRING! Here are the latest Dooly County School System Vacancies: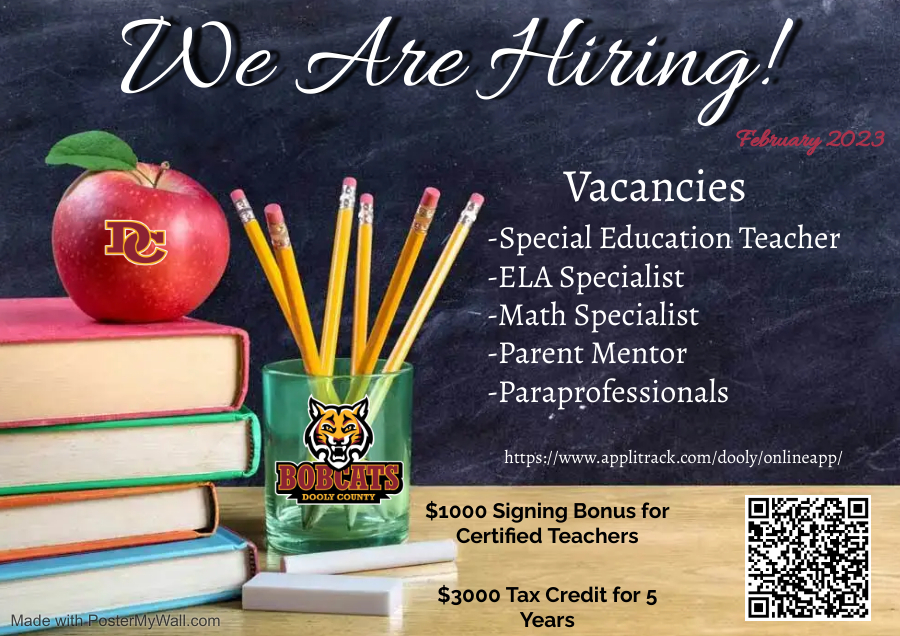 The Dooly County Board of Education will have a regular board meeting on Thurs., Jan. 19, 2023, at 6:00 p.m. in room 101 of the Central Office. The public may view the meeting via Facebook Live from the Dooly County School System Facebook page.

Good morning Bobcats! Come out to STEAM Family Night tonight from 5:00-6:15 PM. This event is hosted by 21st CCLC After School. Students must be enrolled in the 21st CCLC After School Program to attend. We hope to see you there!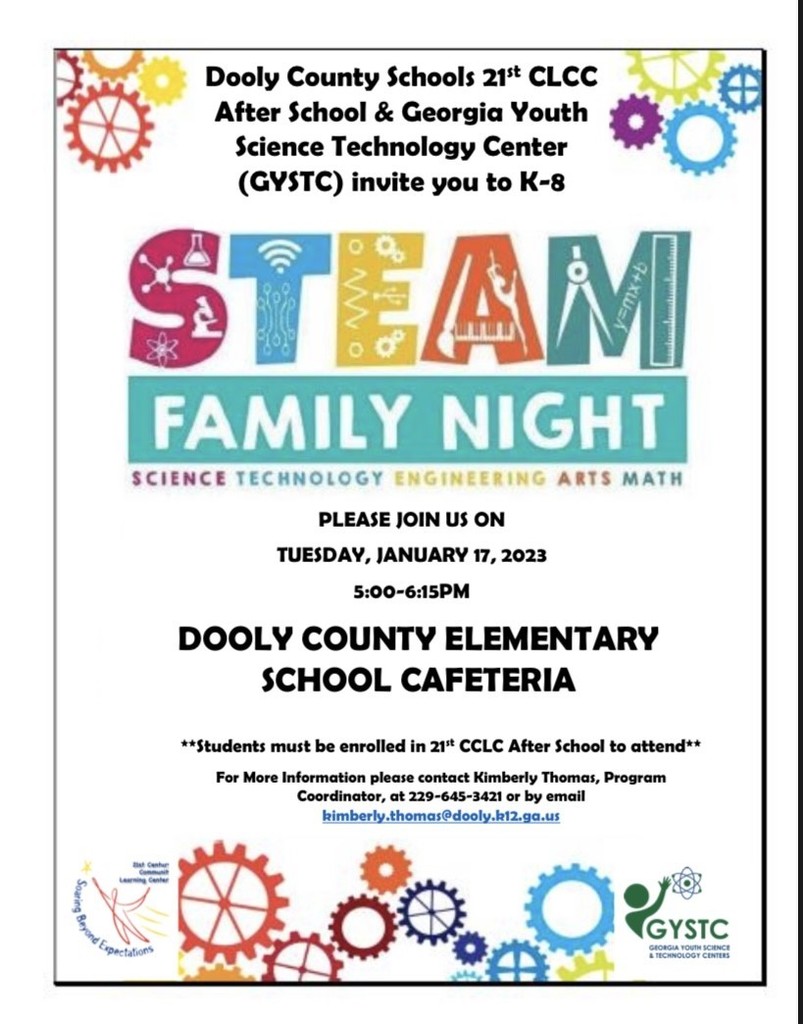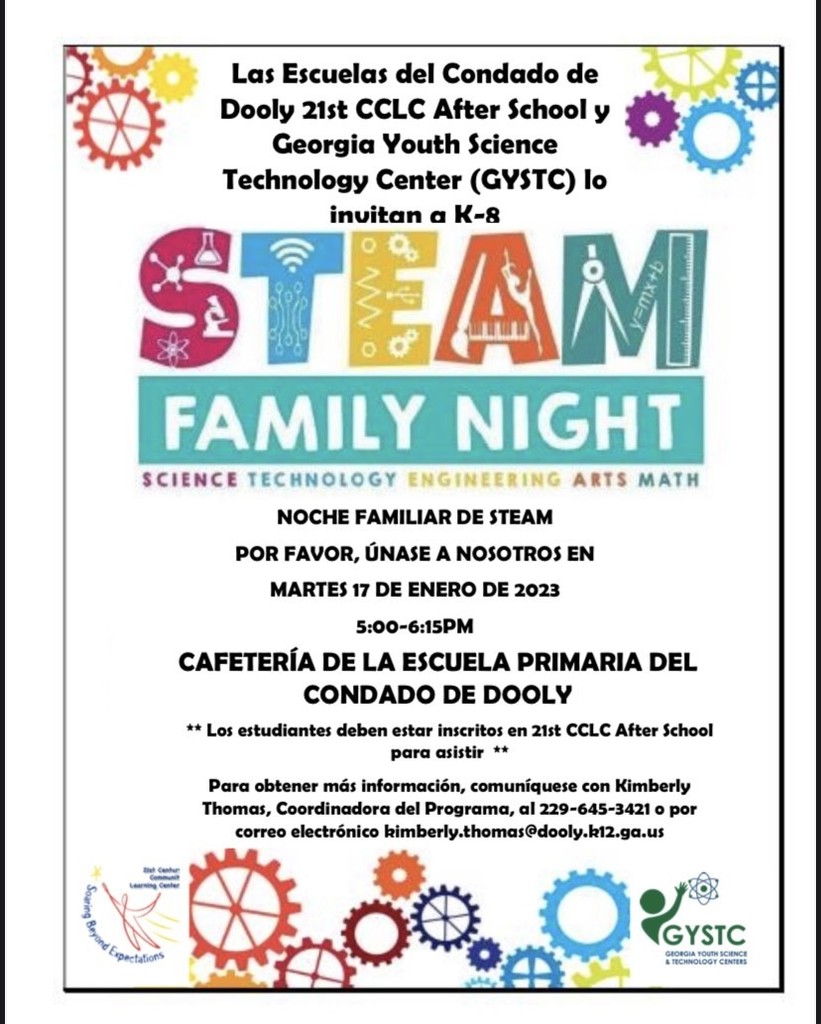 Greetings, Dooly County 21st C.C.L.C. parents, Due to the level three severe weather threat and potentially hazardous road conditions, the Dooly County School 21st C.C.L.C. after-school program will not meet today. Instead, students are asked to use their regular method of transportation home at the end of the regular school day. Dooly County 21st C.C.L.C. after-school is taking this precautionary measure to maintain the safety of all students and staff. Thank you!

P-EBT Benefits DHS Issues Additional 2022 Benefits to Eligible Children The Georgia Department of Human Services' (DHS) Division of Family & Children Services began issuing a third round of 2021-22 P-EBT benefits in December, this time covering the 2022 summer months for eligible children. Families with SNAP-enrolled children ages 0-5 and 5 who turned 6 during the school year, as well as K-12 students who participated in the National School Lunch Program, are eligible for the one-time $391 benefit issuance. SNAP recipients will have the benefits loaded onto their current head of household's EBT card. Children who are no longer receiving SNAP will have the P-EBT benefits loaded to their head of household's previous EBT card, provided the state can match the child's identity from a previous year. Eligible non-SNAP students will receive a P-EBT card or, where applicable, have the benefits loaded onto a prior P-EBT card if they received benefits in a past P-EBT issuance. If this is the first benefit issuance to an eligible child, a new card will be provided Please click the link below for frequently asked questions and answers including eligibility, replacement cards, benefits not received, etc.:
https://dfcs.georgia.gov/services/pandemic-electronic-benefit-transfer
P-EBT FAQs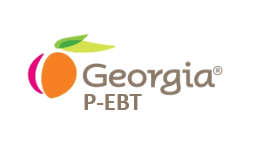 FYI: January 2023 Food Bank Notice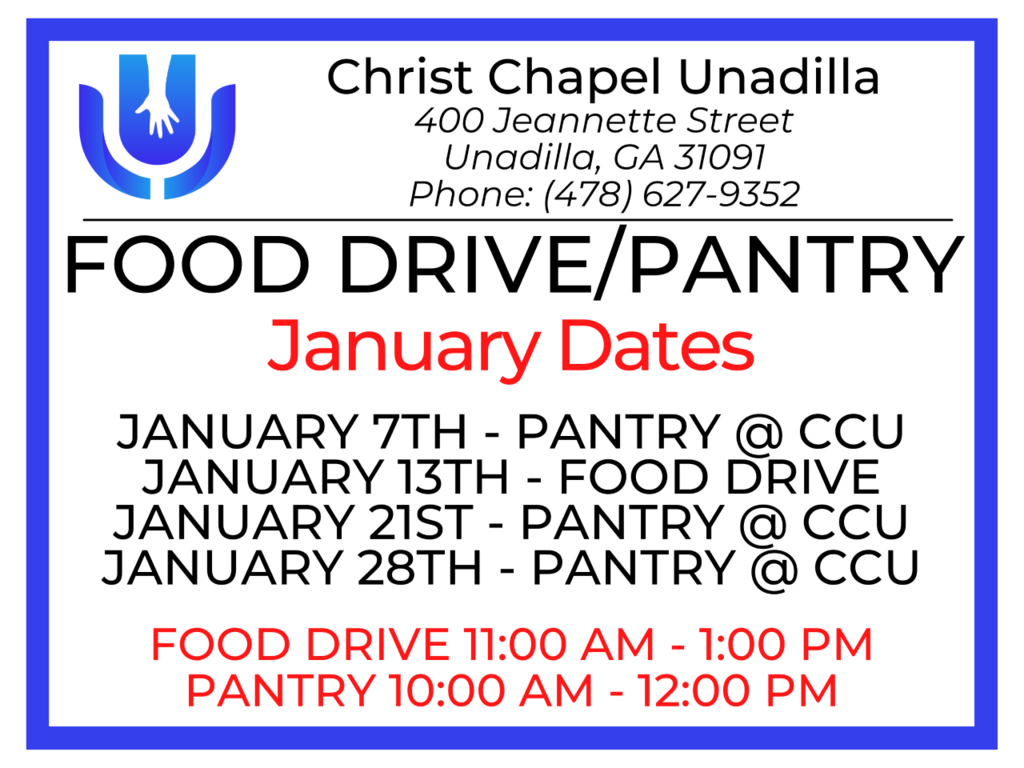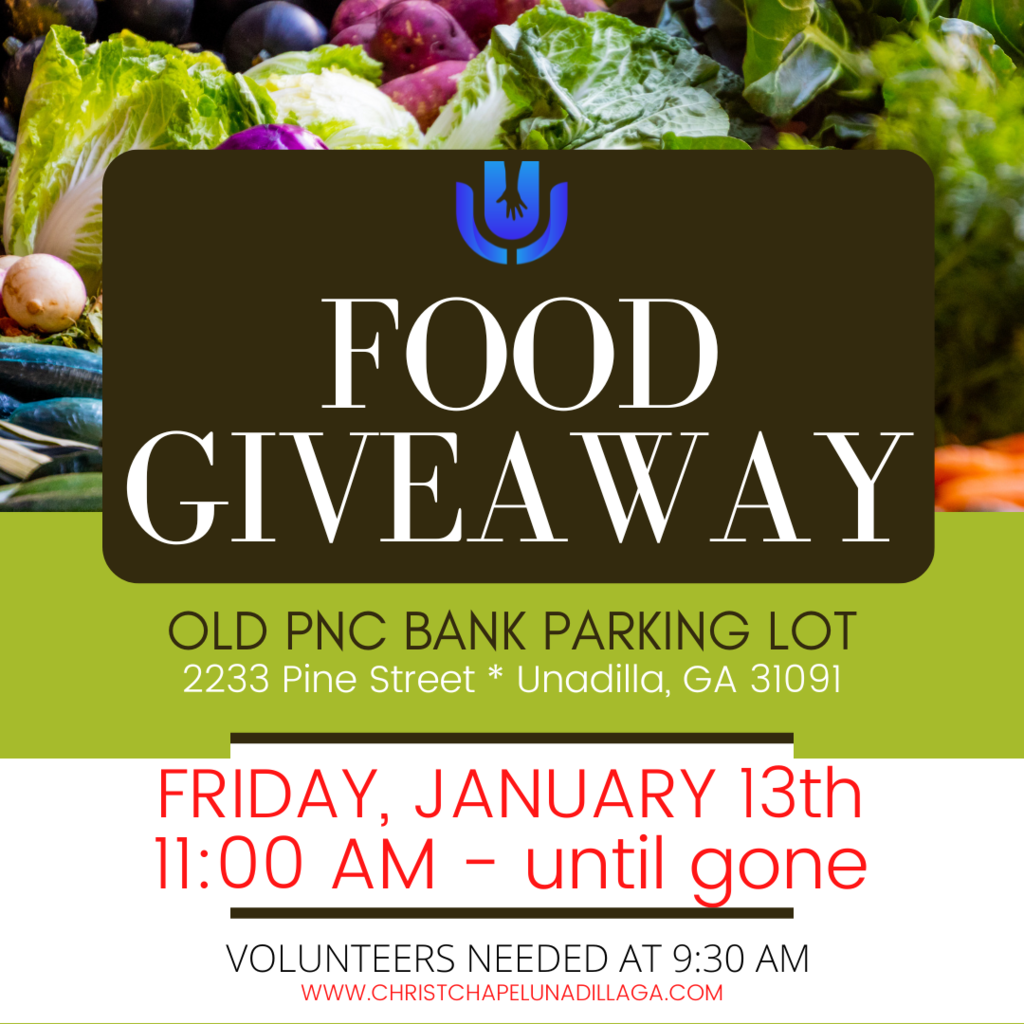 Happy New Year Bobcats, This is a reminder that all students will report back to school on Wednesday, January 4th. Faculty and staff will report back on Tuesday, January 3rd. Stay safe!

REGULAR BOARD MEETING NOTICE The Dooly County Board of Education will have a regular board meeting on Thursday, December 15, 2022, at 6:00 p.m. in room 101 of the Central Office located at 202 E. Cotton, Street, Vienna, GA 31092. The public may view the meeting via Facebook Live from the Dooly County Schools Facebook page.

ATTENTION ALL DOOLY AND CRISP COUNTY STAKEHOLDERS: Please be sure to review and follow these guidelines for the Dooly vs Crisp County basketball games on tomorrow, December 16, 2022 from the DCHS Athletic Director.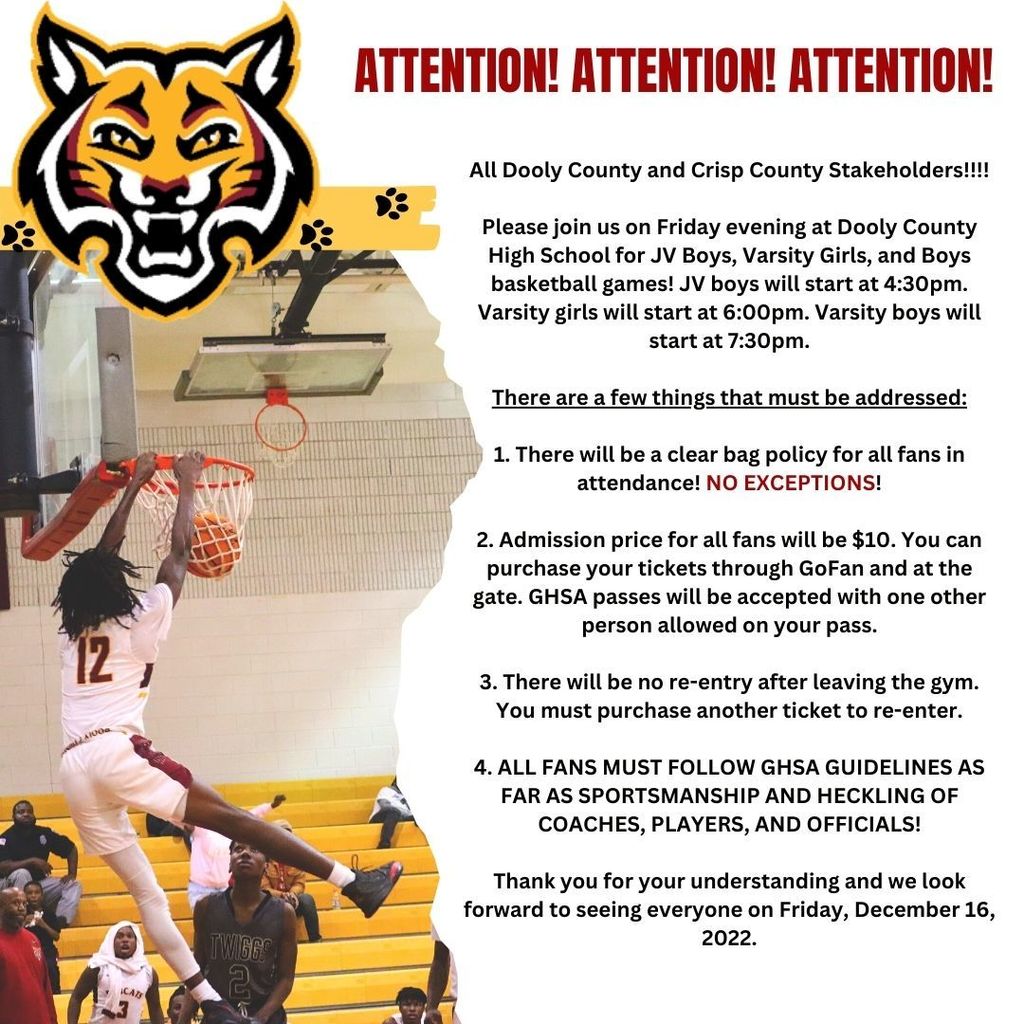 Tune into Facebook Live today, December 12th at 11 AM, for a major announcement from the Dooly County School System.

Dooly Stakeholders, Please be advised of the December 2022 Food/Drive Pantry dates for Dooly County. The first date is Friday, December 2nd.