Dooly Stakeholders, Please be advised of the December 2022 Food/Drive Pantry dates for Dooly County. The first date is Friday, December 2nd.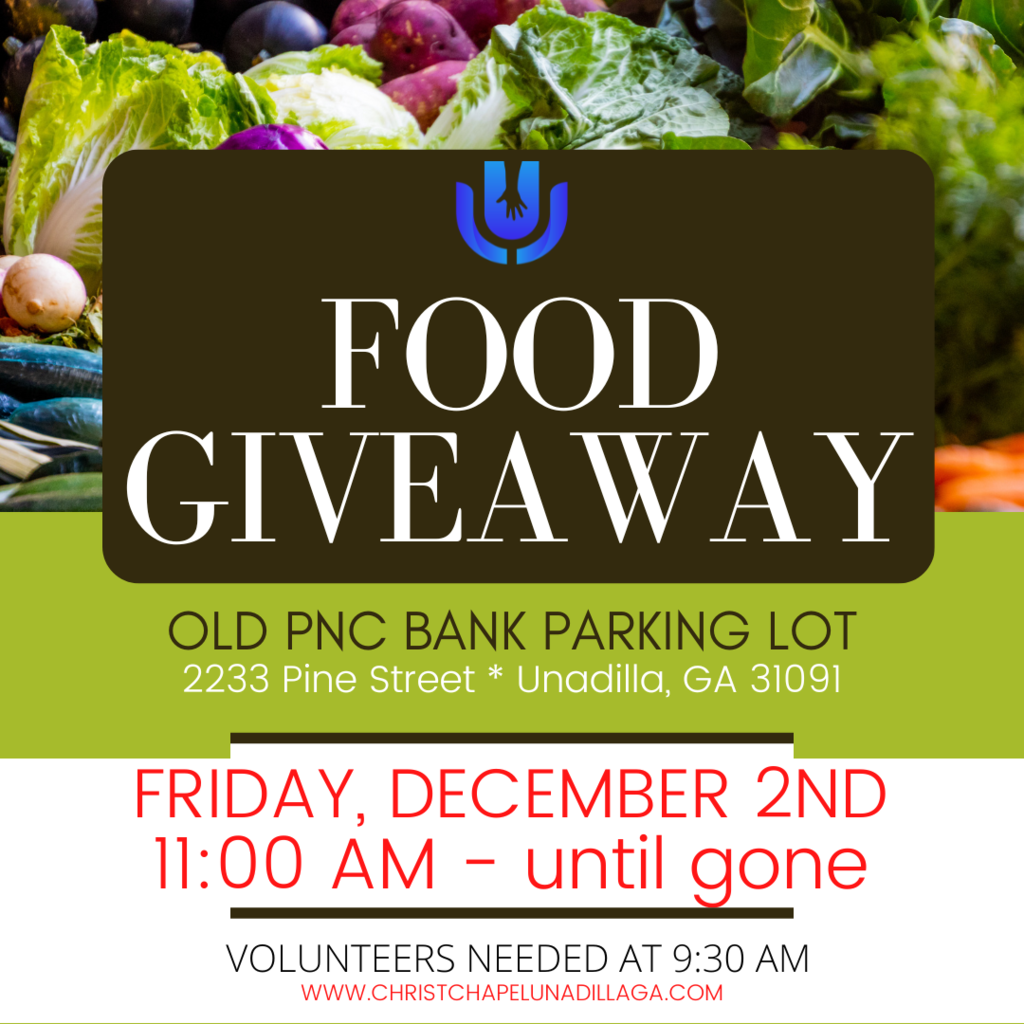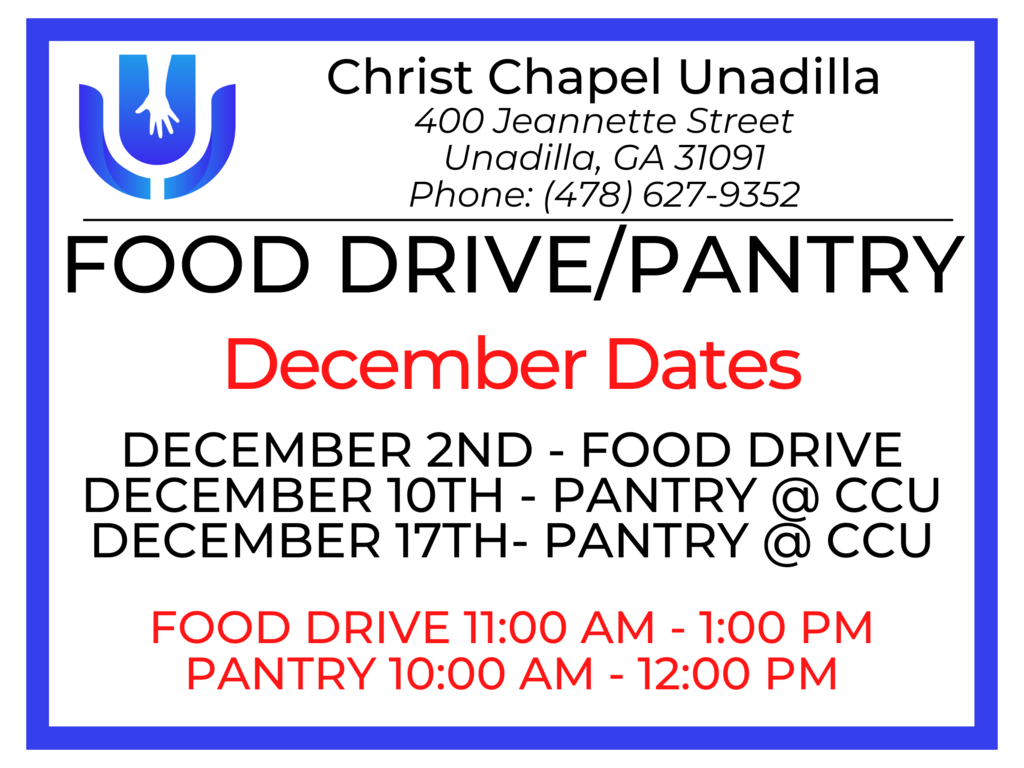 Check out our two recently added policies for public review on our home page. We appreciate your feedback!
Come Join Us- On Monday, December 12, 2022 Mr. Muhammad and the Golden Sound of The South Band will be having its winter concert at 6:00 PM at the Dooly K8 Academy. The concert will also include art exhibits from Mrs. Darter's art class, and a choral/instrumental from Mr. Street's students. We hope to see you there!
Dooly County High School will have Dual Enrollment Night on Wednesday, November 30, 2022 @ 6 pm in the media center. We hope to see you there!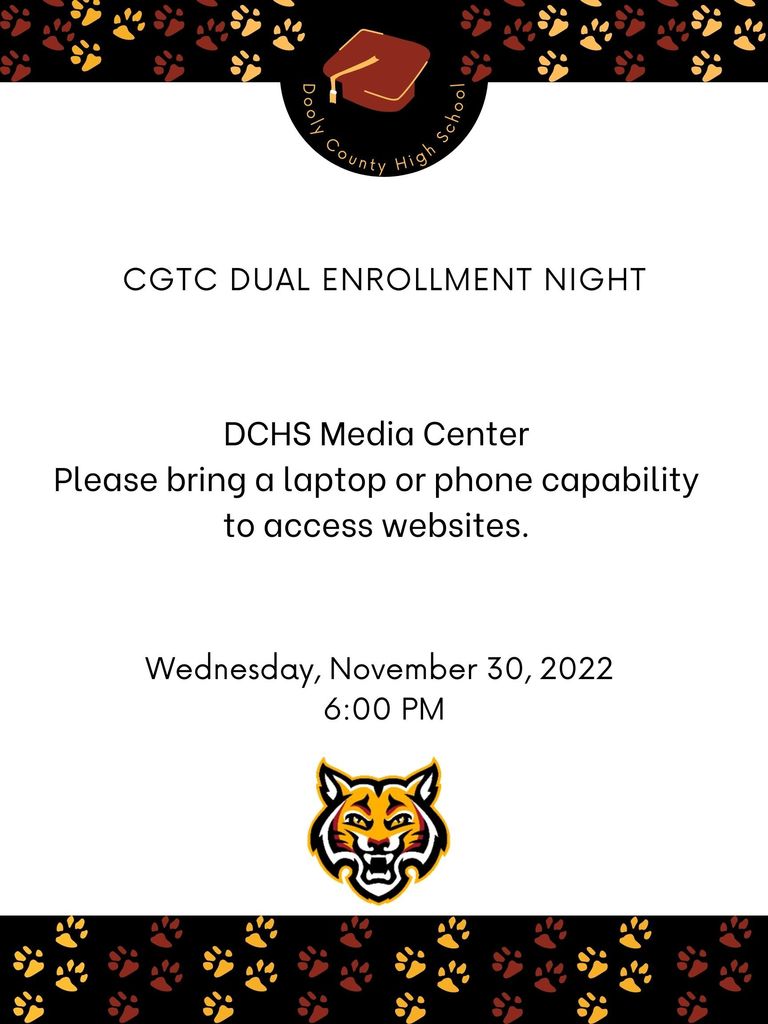 Community Announcement: This Holiday Season, Christ Chapel Unadilla will be collecting at least 100 pairs of shoes and socks to donate to the homeless in Macon, GA. They are collecting the following: Men's Shoes/Socks-Avg Size 10+. All donations are to be received by Sunday, November 20th. For any questions, please contact the CCU Church Office at 478.627.9352 or email:
christchapelunadilla@gmail.com
.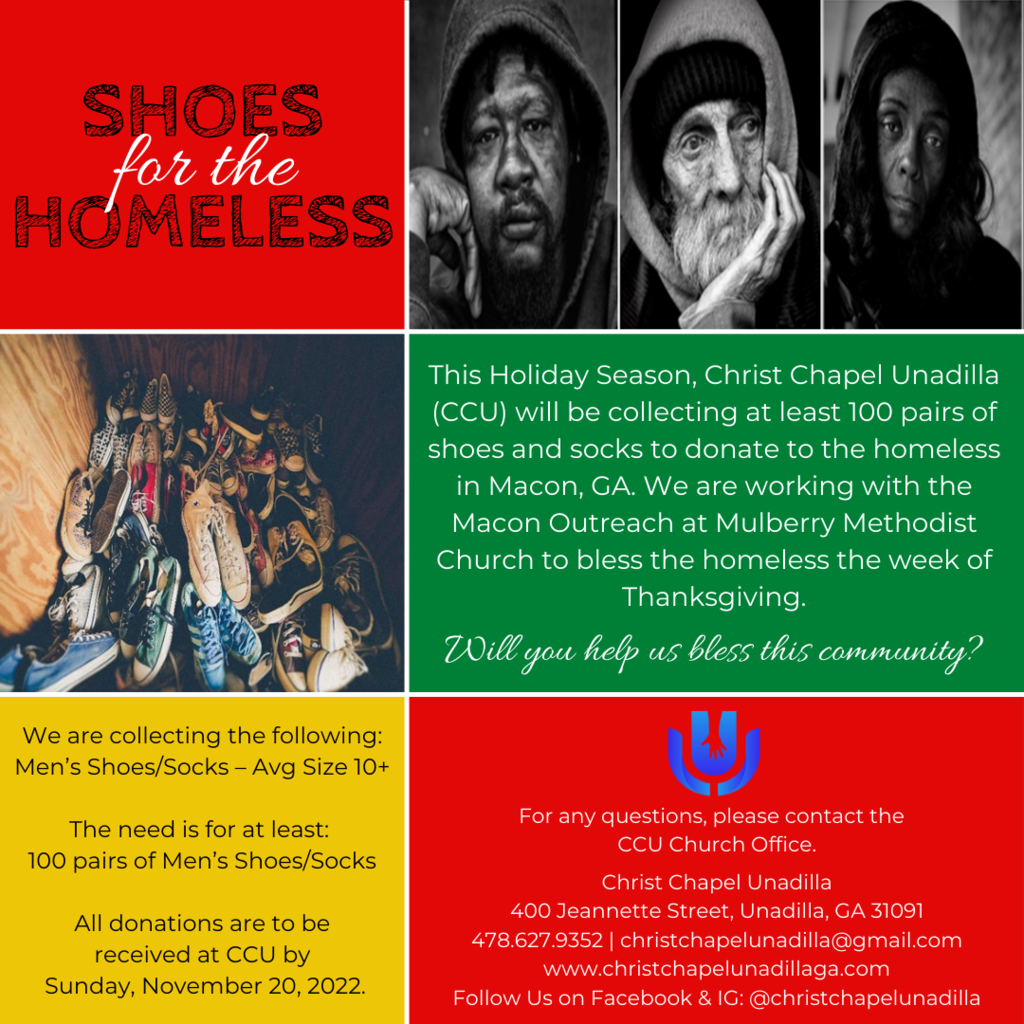 Hey Bobcats, Here's another scholarship opportunity. Students do not have to be in JROTC to receive these scholarships!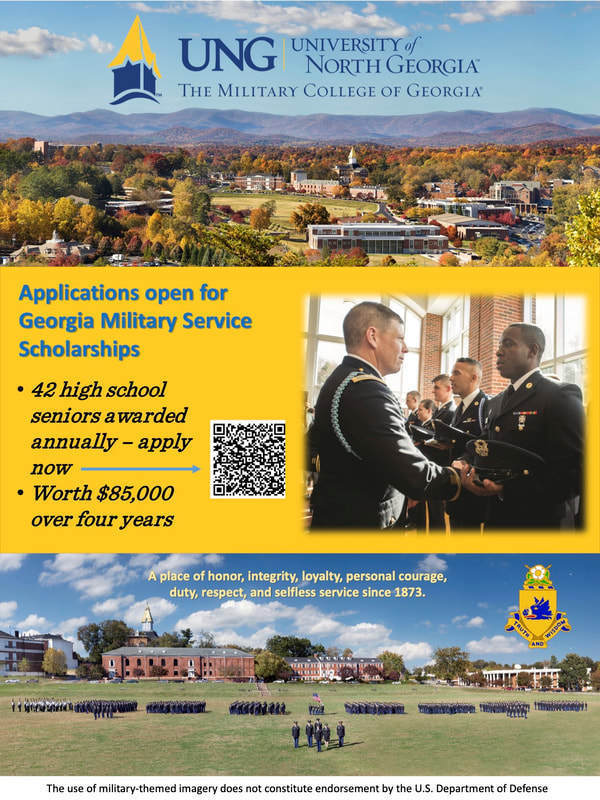 Please support the cause! Ribbons are $1.00 each, and can be purchased during student lunch times. #OvarianCancerAwareness #AchievingExcellenceTogether #ThisisDooly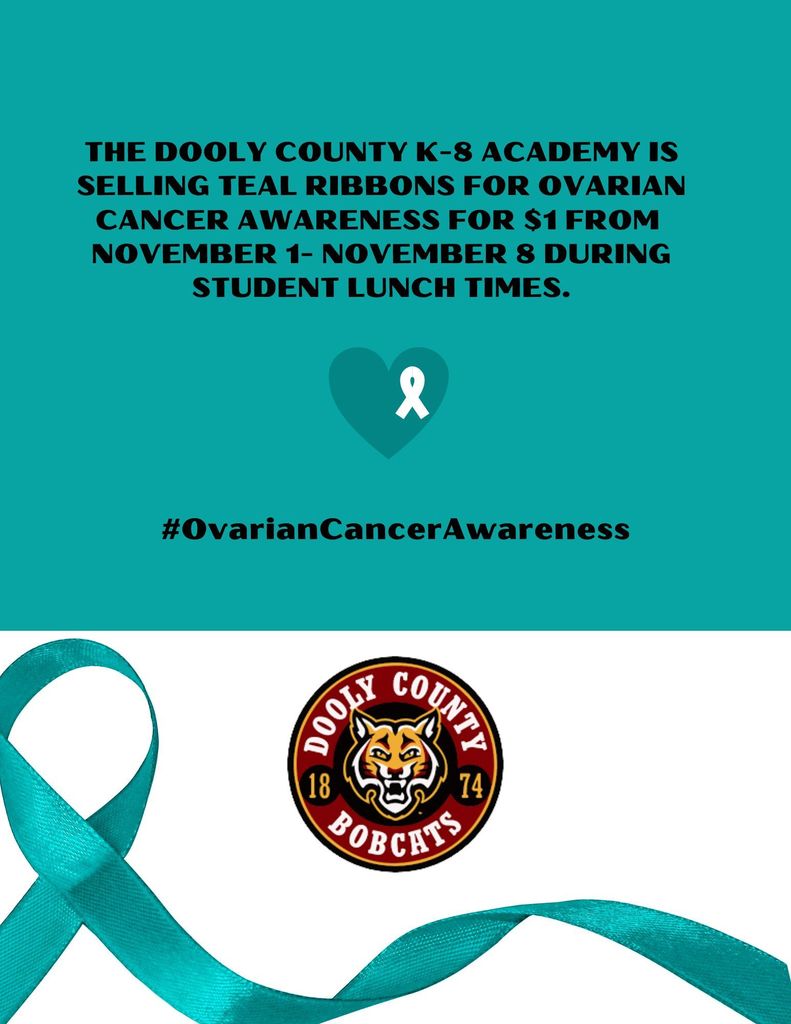 Don't Forget: This Friday, November 4, 2022 is Senior Night! Schedule of Events: 6:30pm- Dooly County Recreation Department 6:45pm- Parents/Athletes Line Up 7:00pm - Senior Night Recognition 7:30pm Football Game
SAVE THE DATE- The Dooly K8 Academy's book fair is November 7-11, 2022 from 8:30AM-2:30PM!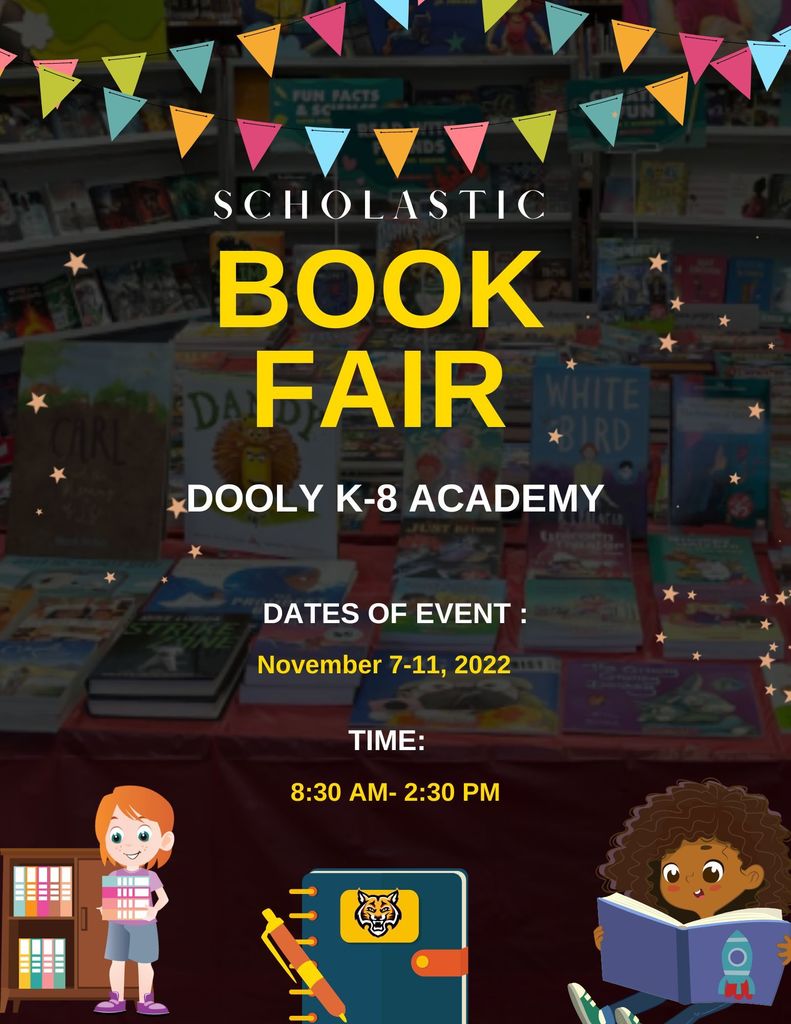 Hey Bobcats!!! On November 16, 2022 our Dooly County High School SSAC will be hosting a Walk-for-a Cure in honor of Ms. Carolyn Brooks at 9:00 AM on the DCHS track. Please see a SSAC member to purchase a $5.00 wristband for admission to the walk. In addition, we will be selling t-shirts at $15.00 each. The shirts are long sleeved only. The deadline to place an order is Tuesday, November 8, 2022 at NOON. To purchase a shirt or if you have any questions, please contact Mrs. Donna Coats at:
donna.coats@dooly.k12.ga.us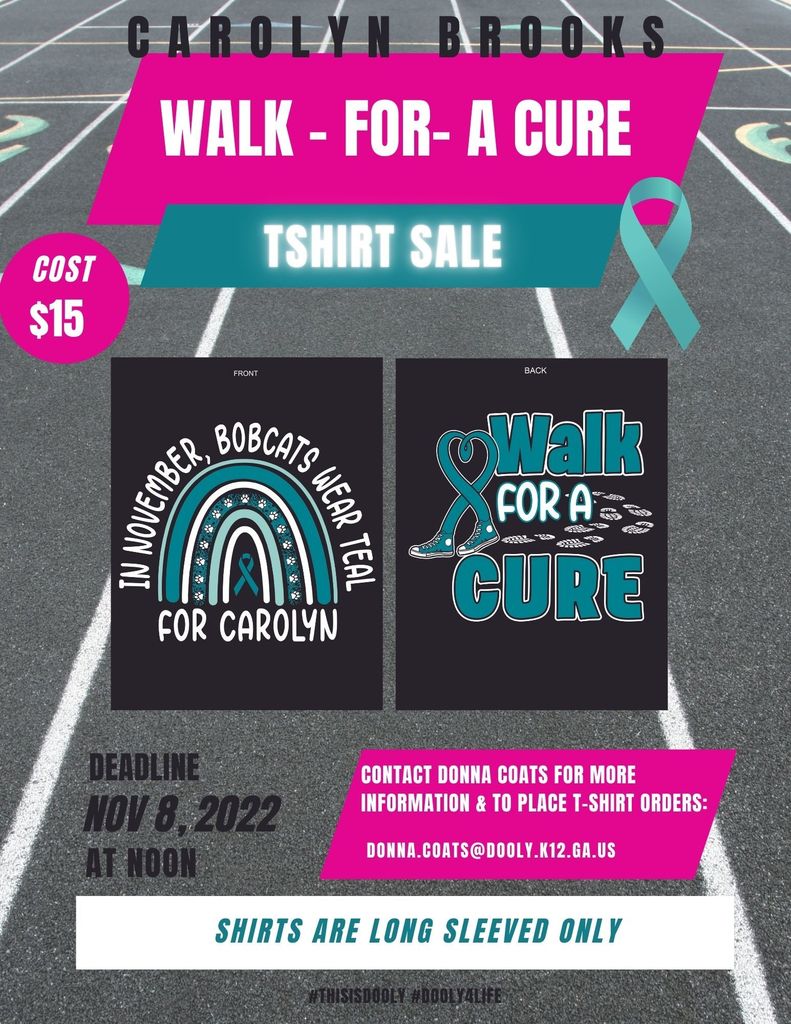 The Superintendent's Student Advisory Council is hosting a Walk-for-a Cure event in honor of Ms. Carolyn Brooks. The purpose of this walk is to not only remember Ms. Brooks, but to bring awareness to ovarian cancer as well. The walk will be on Wednesday November 16, 20222 from 9:00 AM-10:00 AM at the Dooly County High School track. There will be a balloon release immediately following the walk. SSAC members will be selling wristbands for $5.00. These wristbands are admission to the event. We hope to see you there!
Dooly County Middle School will be having their first home basketball games of the season this evening starting at 4:30. Please come out to support all of our Bobcats as they take on the Turner County Titans!!!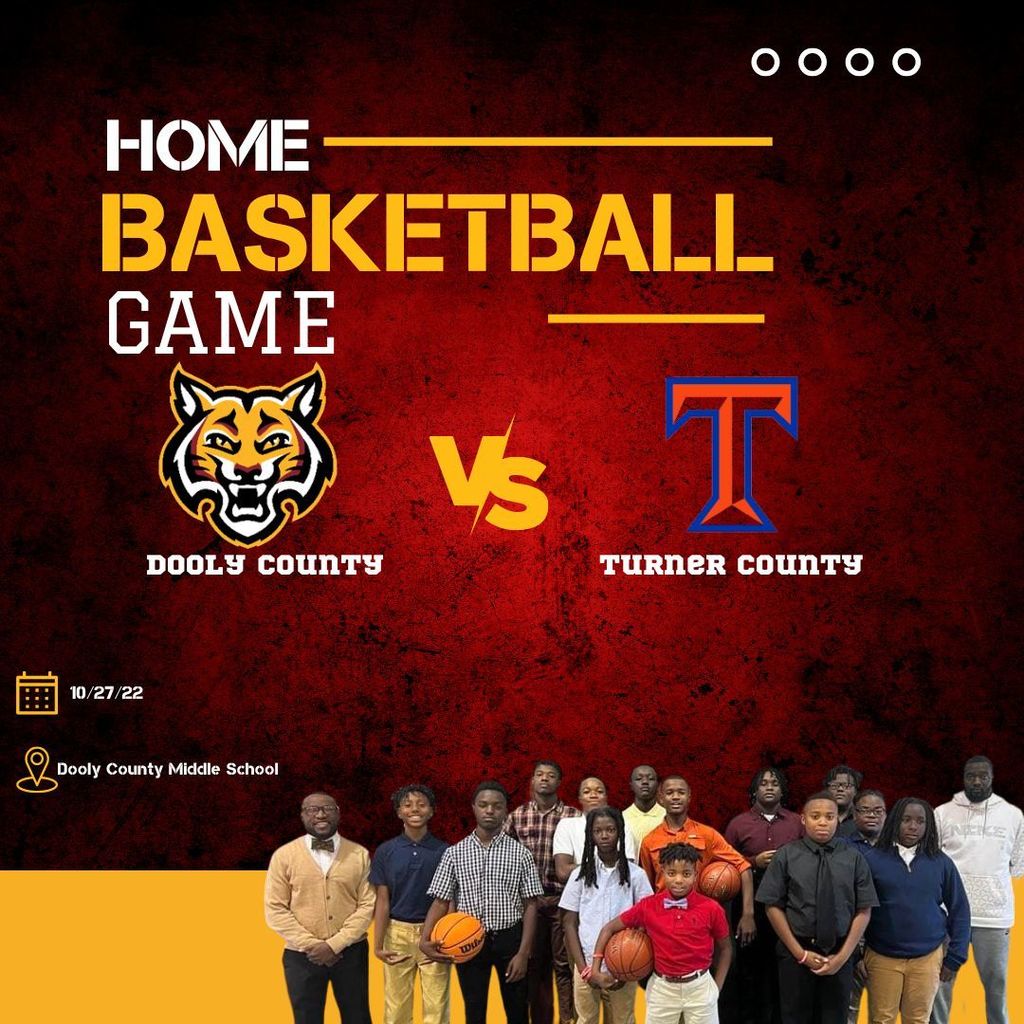 Greetings Bobcats, Financial Aid Night will be this Wednesday, October 26, 2022 at 6:00 PM in the DCHS Cafeteria. A representative from the Georgia Student Finance Commission will present information about FAFSA, the HOPE Scholarship, and other college financial aid. We encourage all 11th and 12th grade students and parents to attend. We hope to see you there!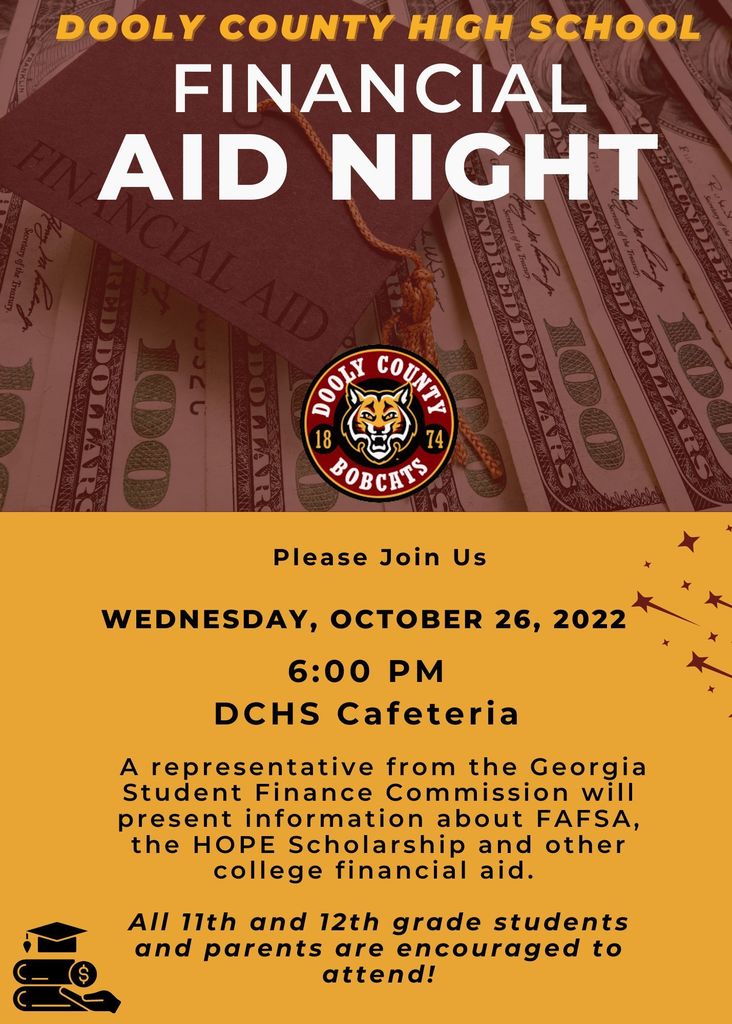 Dear students, parents, and guardians, The 21st CCLC Afterschool Parent Orientation Meetings will be held at the K-8 Academy tomorrow evening from 5-6 PM, and DCHS on Wednesday AND Thursday from 5-6 PM. ALL parents are encouraged to attend these extremely informative meetings.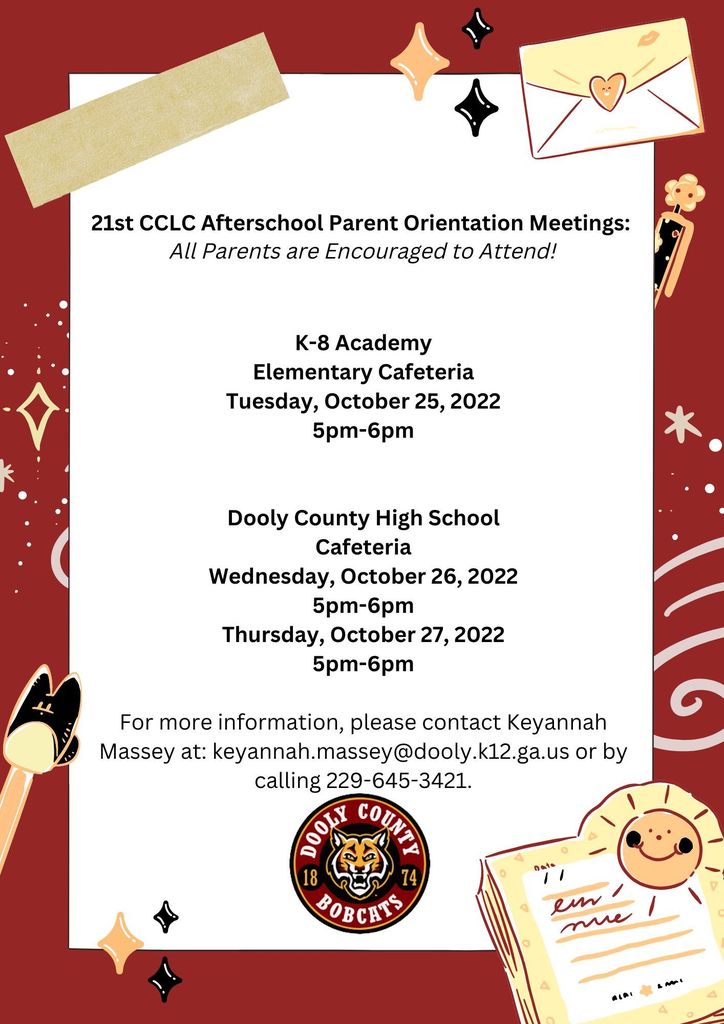 Dooly County K8 Academy 2022-2023 Basketball Schedule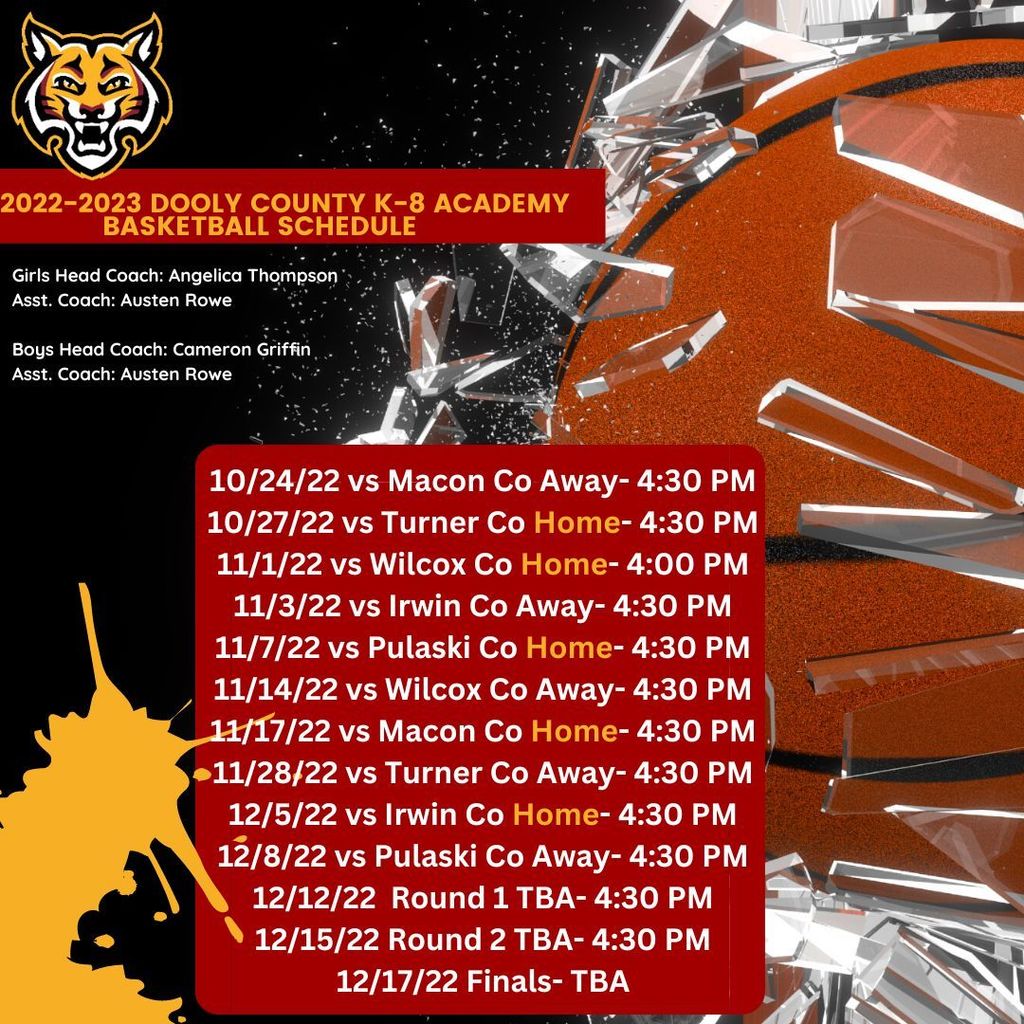 2022 Dooly County High School Girls Flag Football Schedule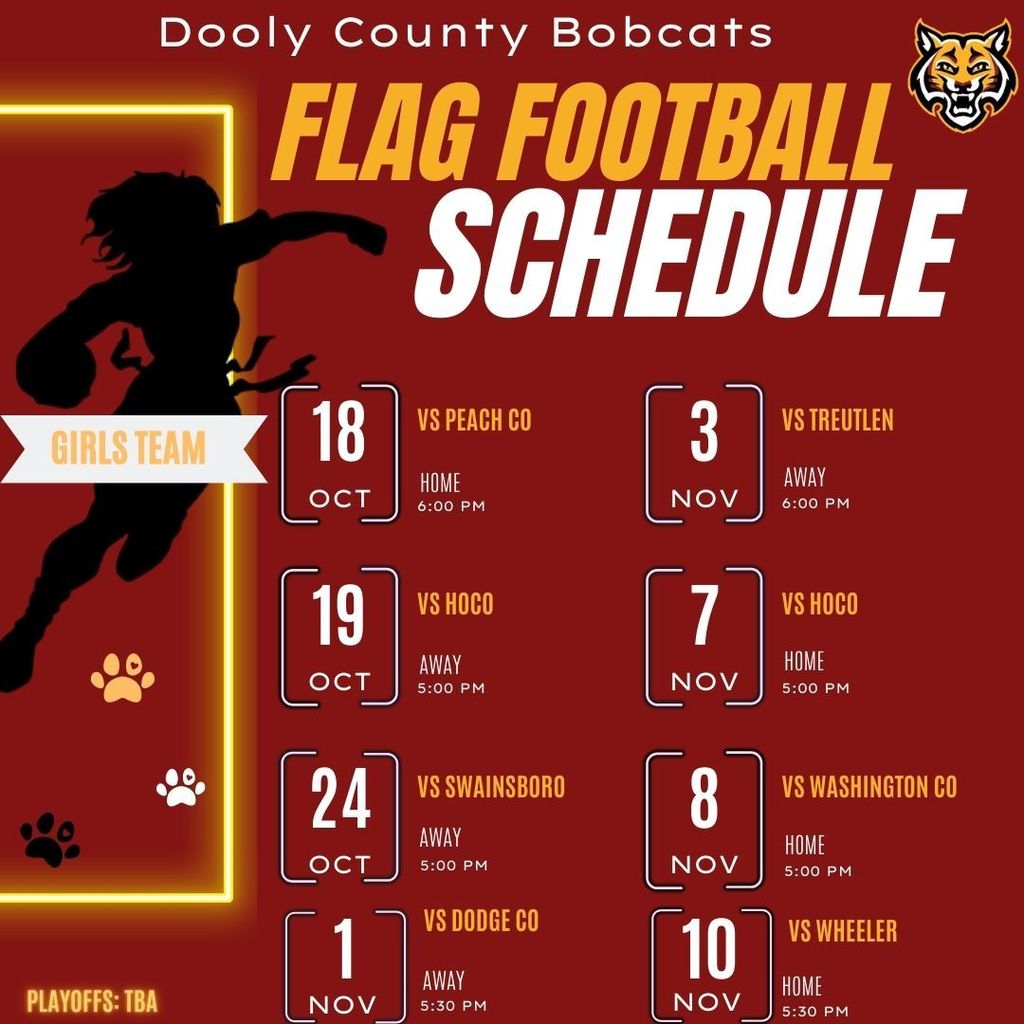 REMINDER for all students, parents, and guardians : Tomorrow, October 20, 2022, will be an early release day for students at the Dooly K8 Academy, and Dooly County High School. The K8 will be releasing students at 11:30 AM and DCHS at 11:45 AM.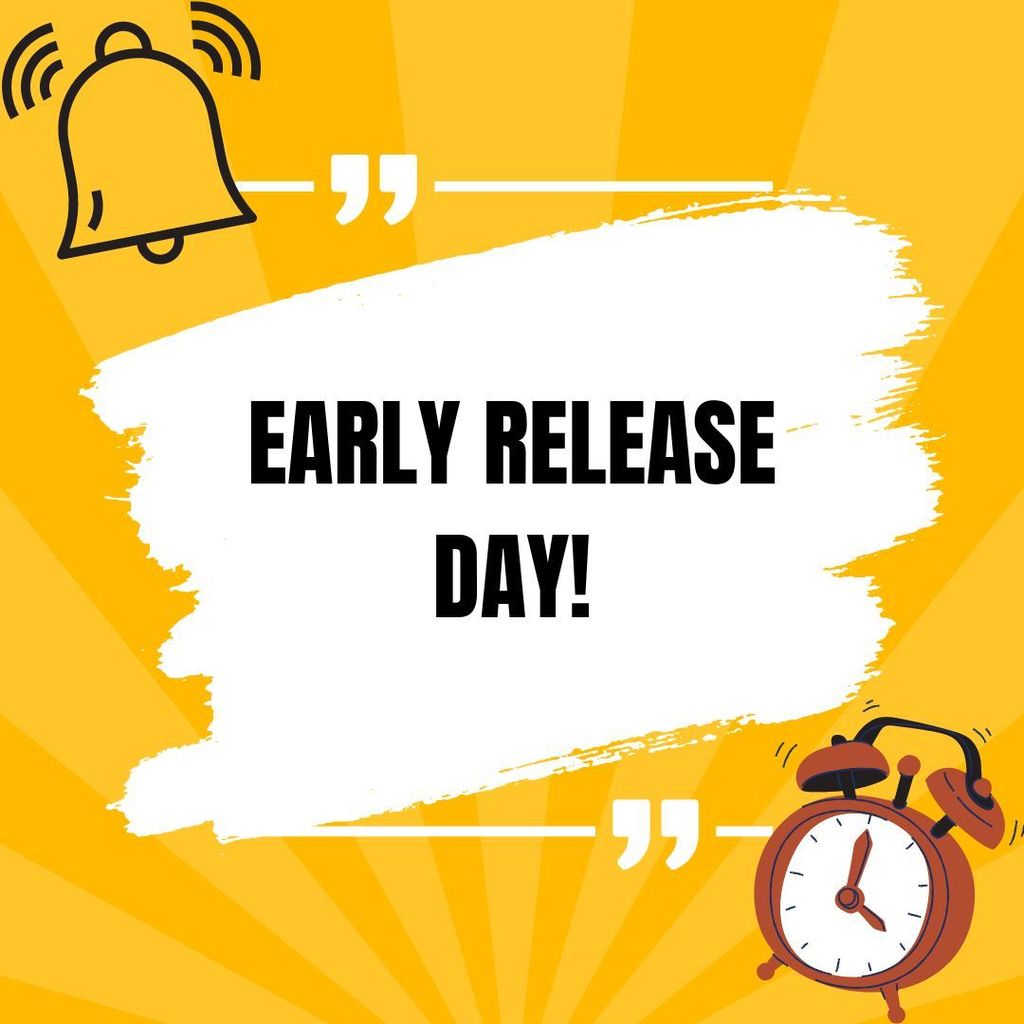 2022/2023 SAT Test Dates.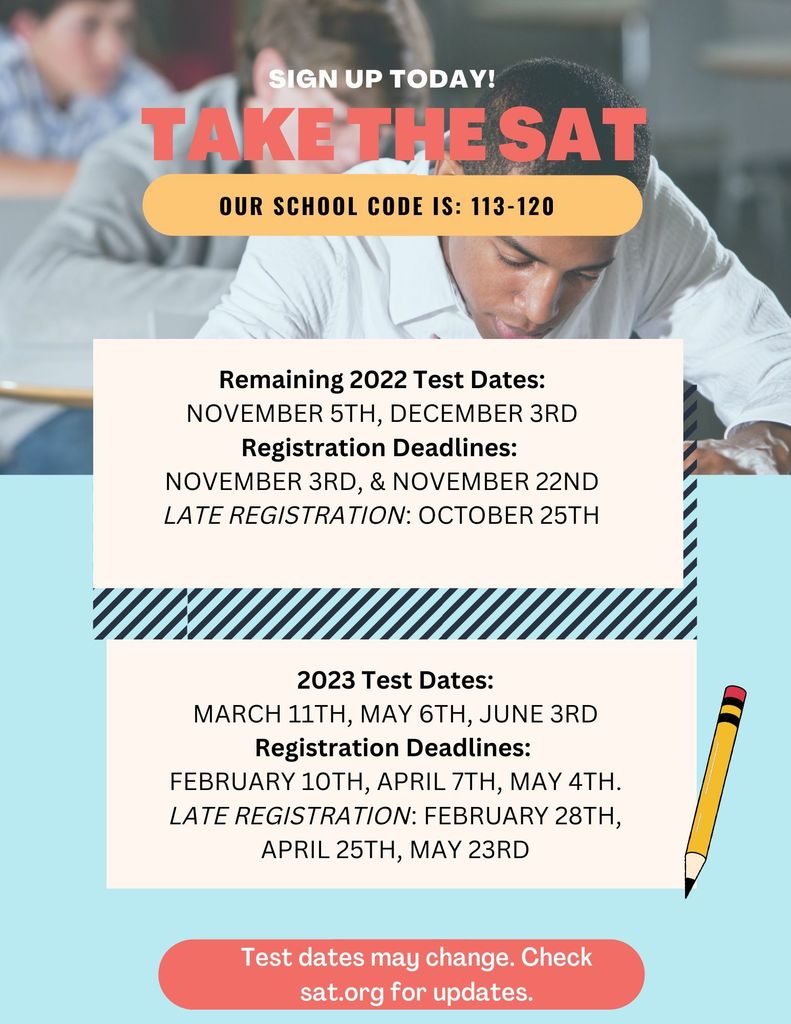 Dooly County Schools Homecoming Parade--- Featuring: Albany State University and Fort Valley State University on Thursday, October 20th, @ 4:00p.m. The parade will begin at the Dooly County Board of Education (202 Cotton Street, Vienna, GA 31092) and proceed down US Highway 41 North. The parade will end at Dooly County High School. For more information, please contact: Ms. Willie Mae Chaney at
williemae.chaney@dooly.k12.ga.us
or Mrs. Ansley Scarborough at
ansley.scarborough@dooly.k12.ga.us
. You may also call us via telephone: 229-268-8181. NO PARADE ENTRY after deadline Wednesday, October 19th, 2022. Forms can be found on the DCHS website, or in the front office!