Dooly County Bobcats are "WILD ABOUT SCHOOL LUNCH" #NSLW21 #WILDSchoolLunch #thisisdooly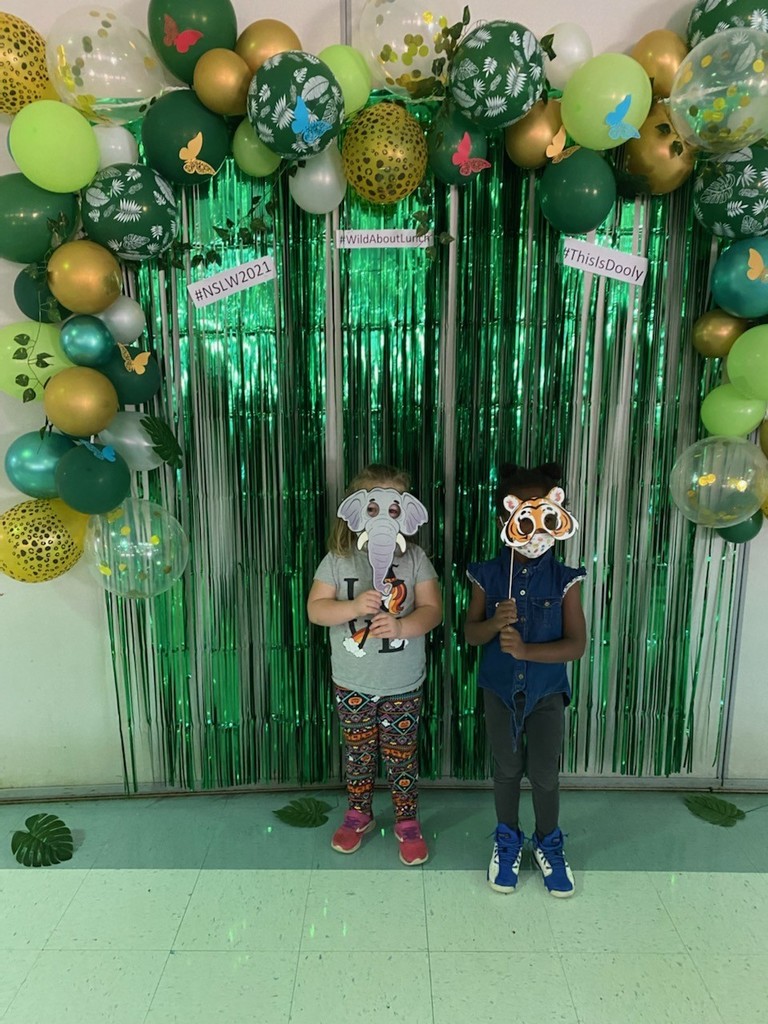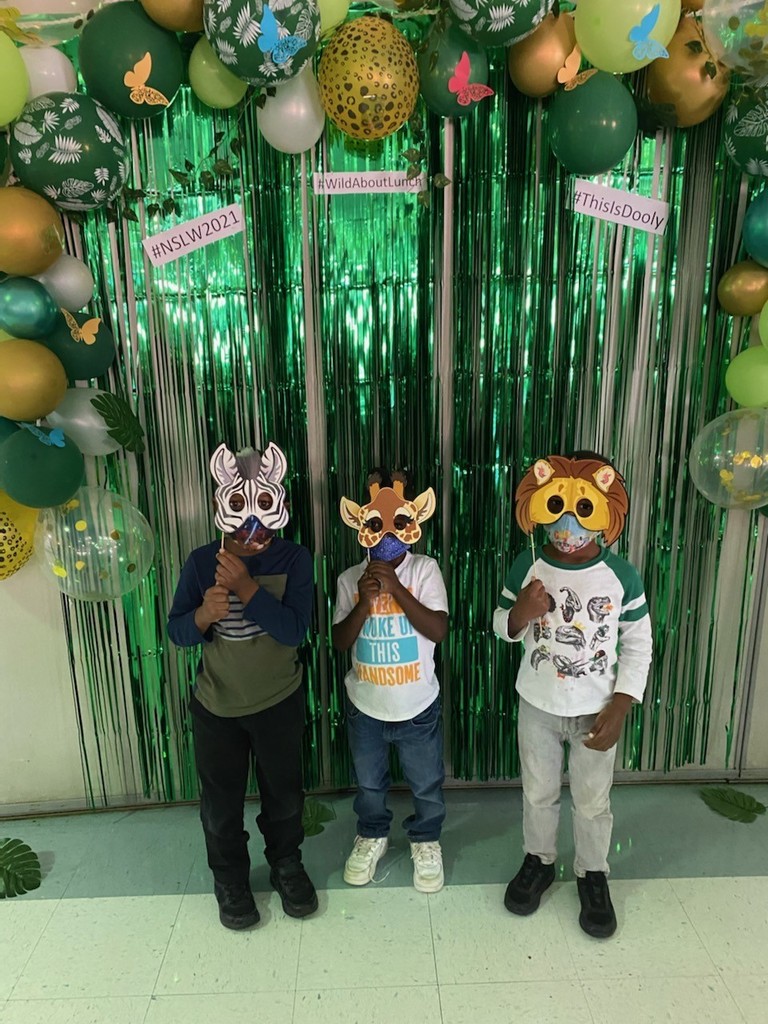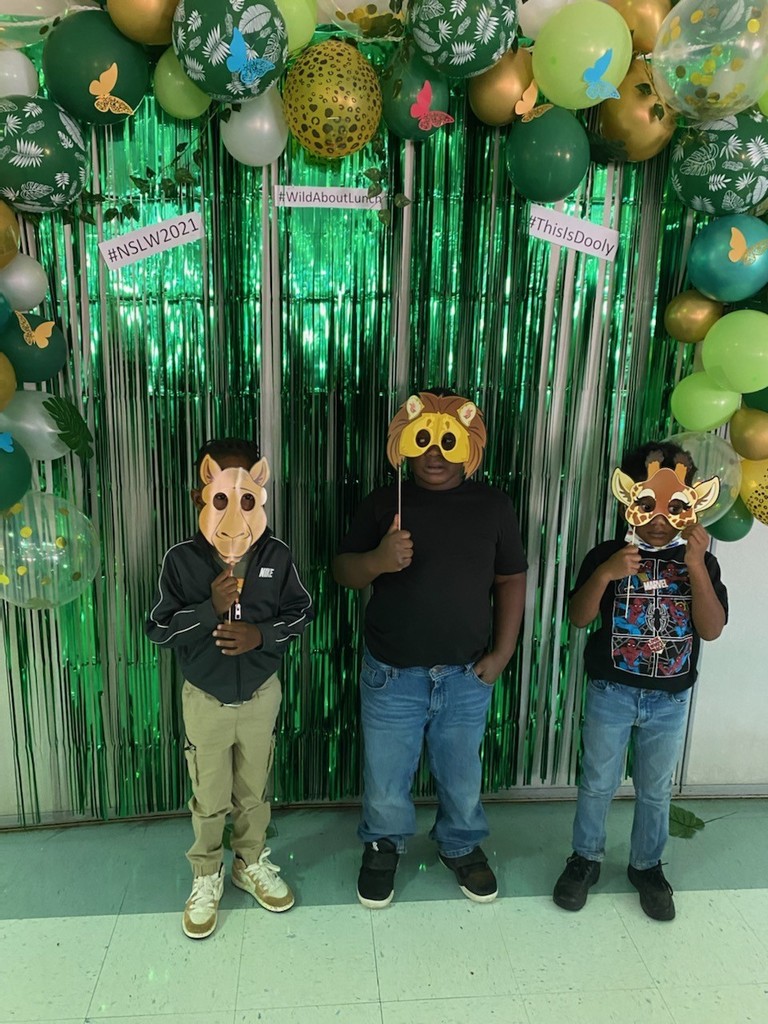 Dooly County School System celebrates National School Lunch Week #NSLW21 #WILDSchoolLunch #thisisdooly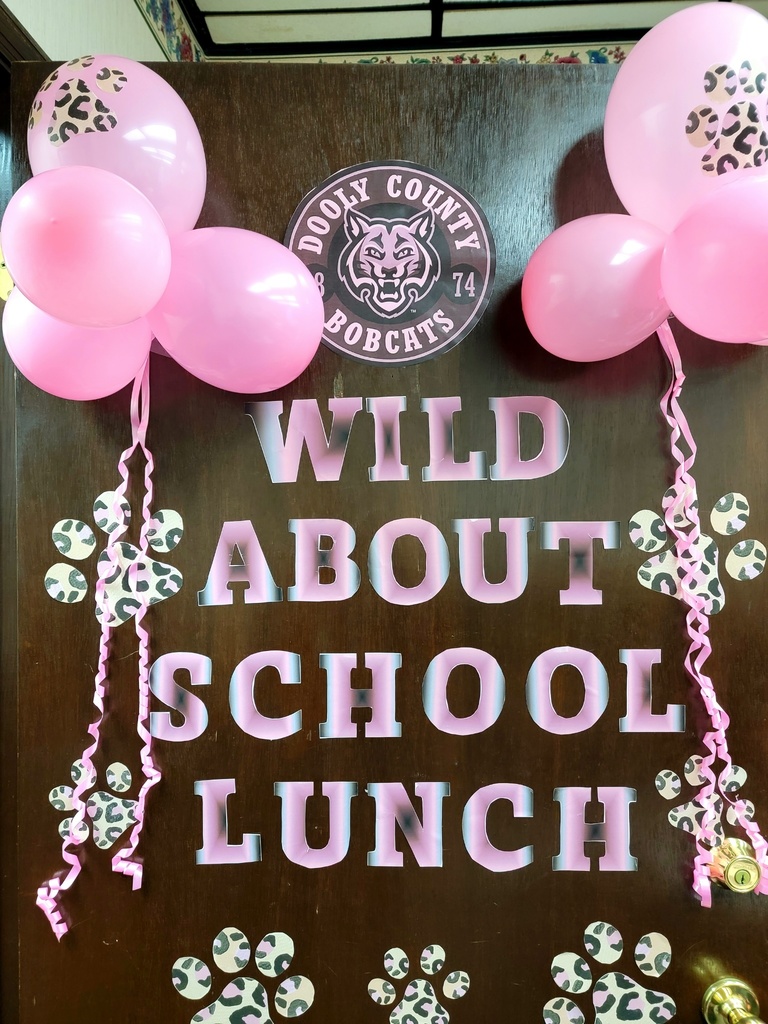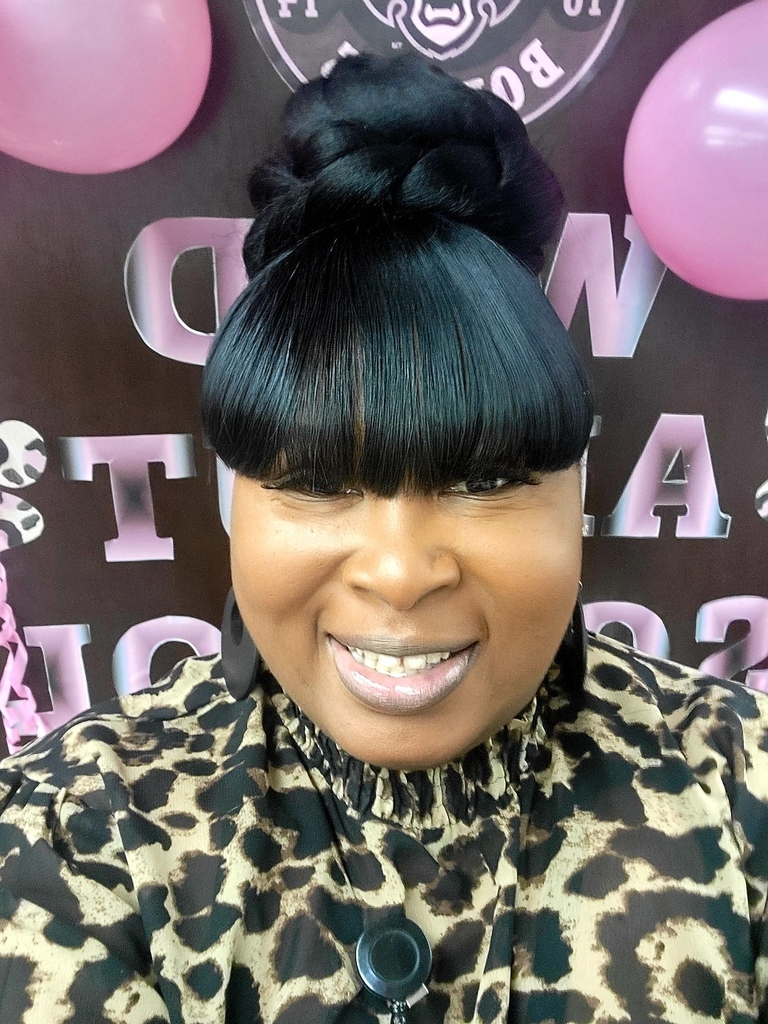 National School Bus Safety Week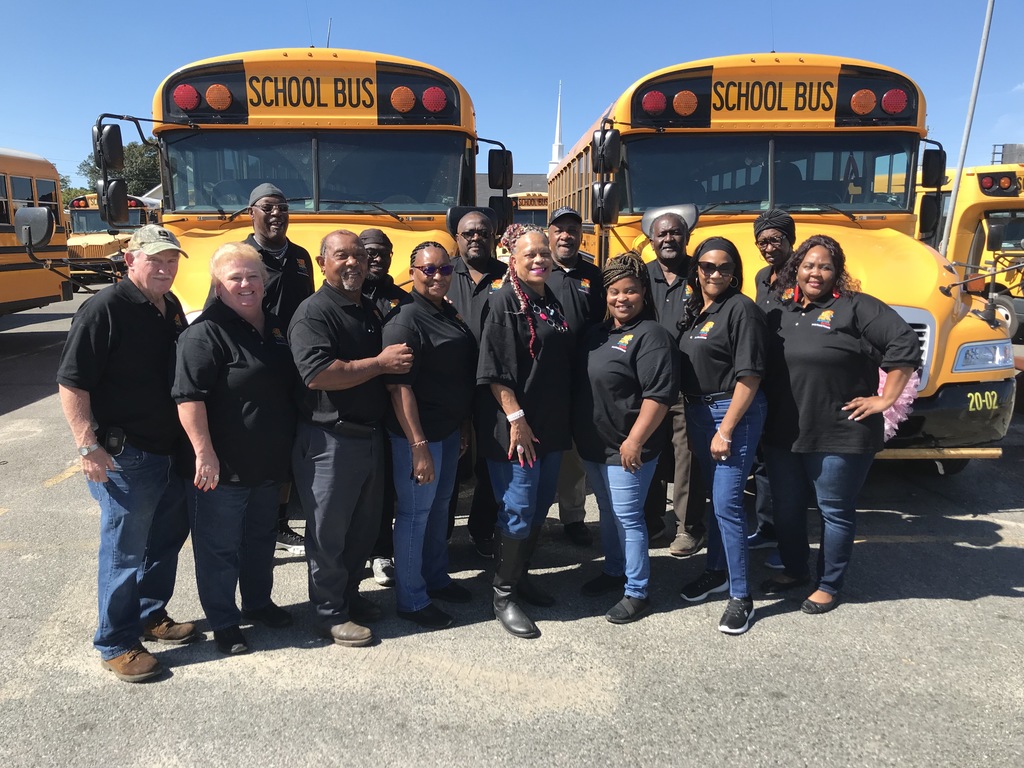 The Dooly County High School Pond is opening on Saturday, October 23, 2021 from 7:30a.m-1:00p.m. Don't forget to bring your rods, reels and bait.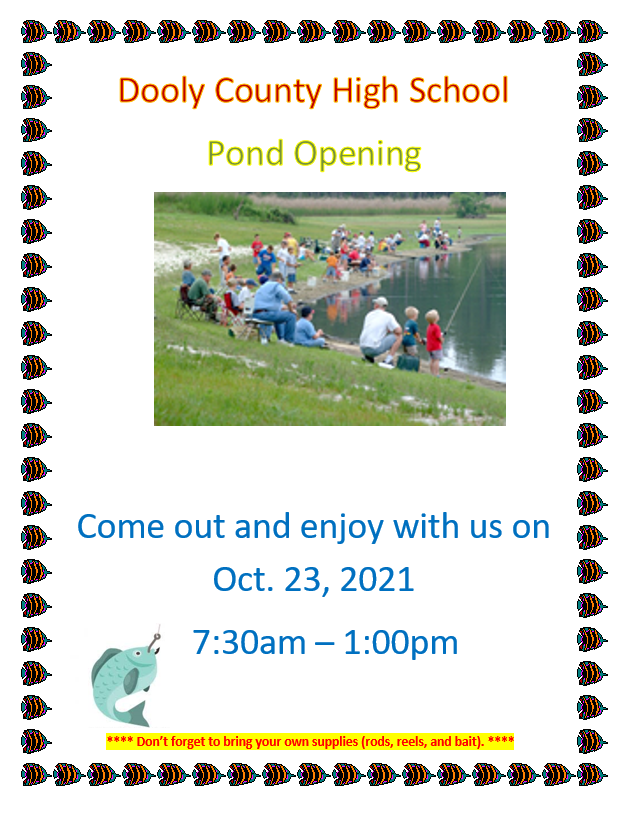 Dooly County Bobcats are "Wild About School Lunch"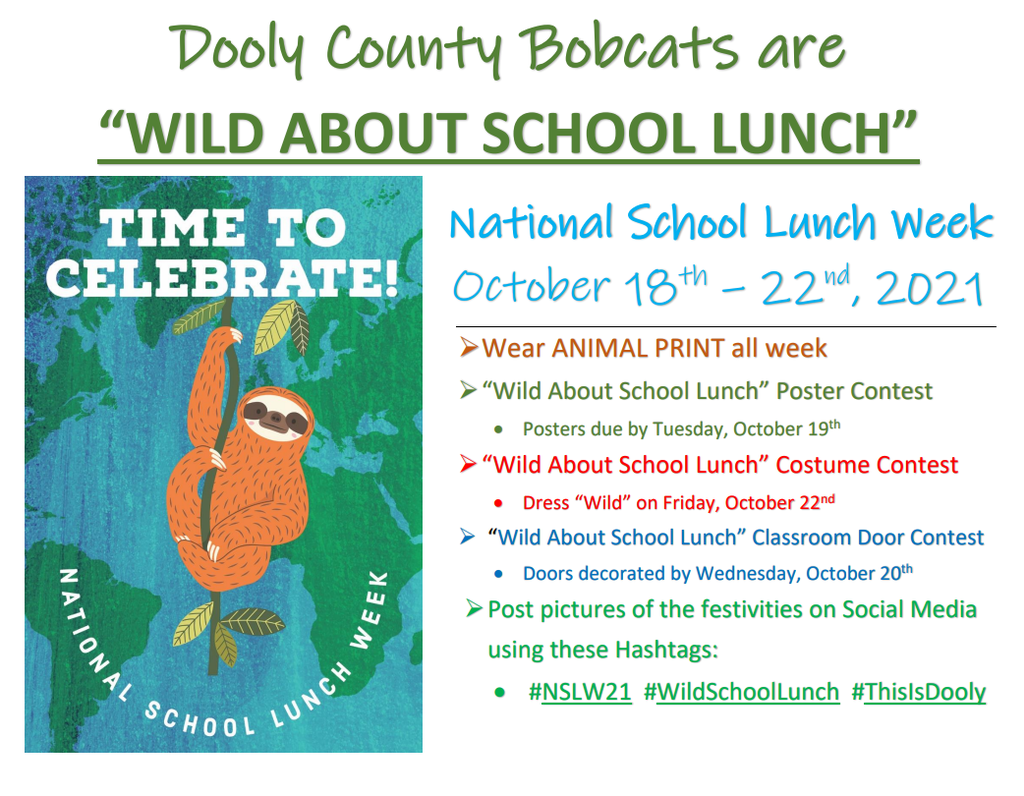 The key to a bright education starts with a great principal. Thank you!!!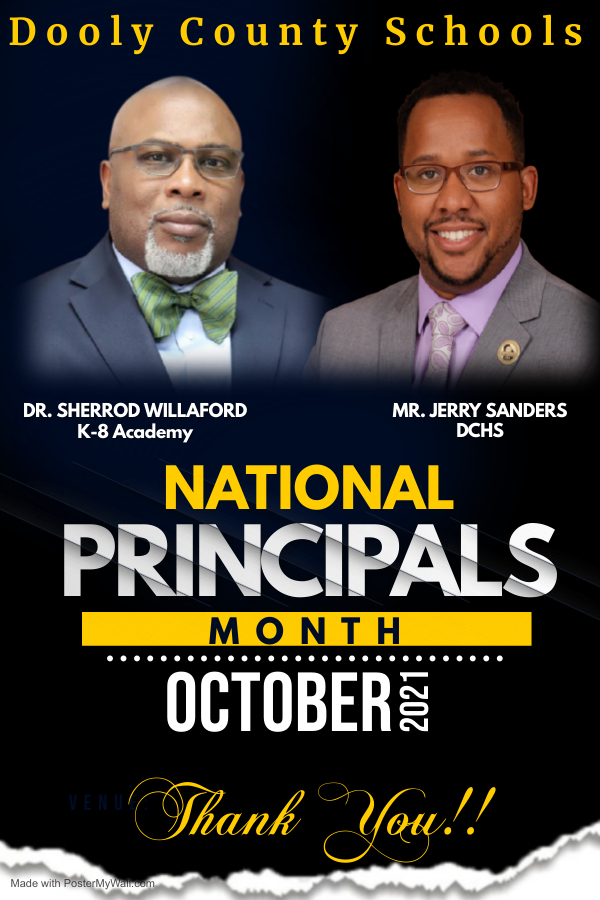 DOOLY COUNTY HIGH SCHOOL HONORED WITH GHSA COOPERATIVE SPIRIT SPORTSMANSHIP AWARD When engaged in athletic competition, high school students have one goal in mind: victory. But beyond wins and losses, one of the greatest lessons learned from competing in high school athletics is the ability to compete with class and sportsmanship. And when it comes to winning and losing with grace and setting a great example for the community, Georgia high schools continue to set the tone and be a benchmark for others to model. Helping to shape future citizens of the community is something close to the heart of each electric cooperative throughout the state. That is why Georgia's EMCs, including Middle Georgia EMC, are proud to announce the winners of the 2020-2021 Georgia High School Association Cooperative Spirit Sportsmanship Awards. "High school athletes have a lot on their plate," says Randy Crenshaw, President and CEO of Middle Georgia EMC. "But one of the most important things that these young people are responsible for is how they carry themselves. Creating the habits of exemplary sportsmanship now will go with them long after the whistle blows and the scoreboard clock shows time has expired on the game. It is one of life's greatest lessons, one that will mold them into healthy and productive adults. We're proud to be a part of such a wonderful award that honors outstanding high school athletes across the state of Georgia." Middle Georgia EMC, along with other EMCs in Georgia, have presented the Cooperative Spirit Sportsmanship Award each year since 2006 to emphasize, encourage and reward positive behavior in athletics. To be considered for recognition, students, athletes, coaches, spectators and anyone else associated with high school activities programs must display respect, fairness, honesty and responsibility before, during and after competition. "Congratulations to all of the region winners of the GHSA Cooperative Spirit Sportsmanship Award for 2020-2021," says Dr. Robin Hines, GHSA Executive Director. "It is an honor for these member schools to be selected by their regions for this award. The characteristics of good sportsmanship are critical to the development of our young people as they transition into productive adults. The GHSA applauds our schools on this accomplishment and appreciates Georgia's EMCs for their support of this outstanding recognition program." The schools honored with this award, such as Dooly County High School, saw their representatives demonstrate a high-level of honorable behavior across all sports throughout the school year and among many different groups, ranging from students, coaches, parents, spectators and officials. With the award serving as a compliment to anyone involved with the school's athletic events, this is an award not just for the school, but for the entire community. Cooperative Spirit Sportsmanship Awards are presented annually by EMC representatives during fall athletic events and school assemblies to GHSA-member high schools in 64 regions and eight total classifications. Middle Georgia EMC is a consumer-owned cooperative providing electricity and related services to 4,800 members in Dooly, Pulaski, Wilcox, Houston, Turner, Macon and Ben Hill counties. Founded in 1904, the GHSA is a voluntary, non-profit organization comprised of more than 460 public and private high schools that strives to promote good sportsmanship, participant safety, fair play and a cooperative spirit among its member schools. The GHSA administers regulations for region and state competition in 21 sports and three activities. For more information, visit
www.ghsa.net
.

Dear Parents, Due to some flooded areas across the county, we expect delays in reporting to school today. All school buses have safely delivered students who were able to attend. Students having difficulty getting to school will be excused today, October 8th, if they are tardy or absent. Please travel safely.

NOTICE OF MEETING DATE CHANGE The regular meeting of the Dooly County Board of Education scheduled for Thursday, October 21, 2021 has been changed to Thursday, October 28, 2021, at 6:00 p.m. in room 101 of the Central Office located at 202 Cotton Street, Vienna, GA 31092.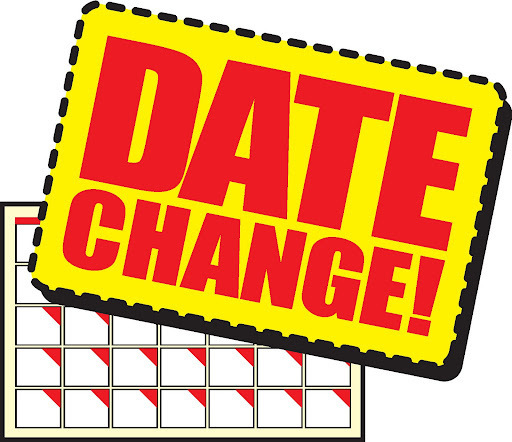 The REACH (Realizing Educational Achievement Can Happen) Scholarship Program is a needs-based scholarship program that pairs middle school students (Scholars) with mentors, coaches, and additional resources to prepare them for college and careers. REACH Scholars who successfully complete the program and graduate from high school earn a $10,000 scholarship paid over four years. Scholars must pledge to maintain good grades, behavior, and attendance; to graduate from high school, and to attend college as part of the REACH program's criteria. Upon the satisfactory completion of all requirements, these scholars will be awarded a $10,000 scholarship to a Georgia college, university, or technical institution of their choice. Dooly County School System will graduate its first cohort of REACH Scholars this school year. Graduating REACH Scholars for Dooly County High School are Jazmin Gauthier, Kiyahsa Lewis, Kanarvious Turner, and Karen Cornejo. The school district commits to providing 35% of the scholarship with the remaining 65% coming from State REACH funds. Individuals or organizations interested in making donations to the Dooly County REACH Scholarship Fund may do so at the attached link.
https://doolyk12-ga.leanstreamrp.com/district/need/493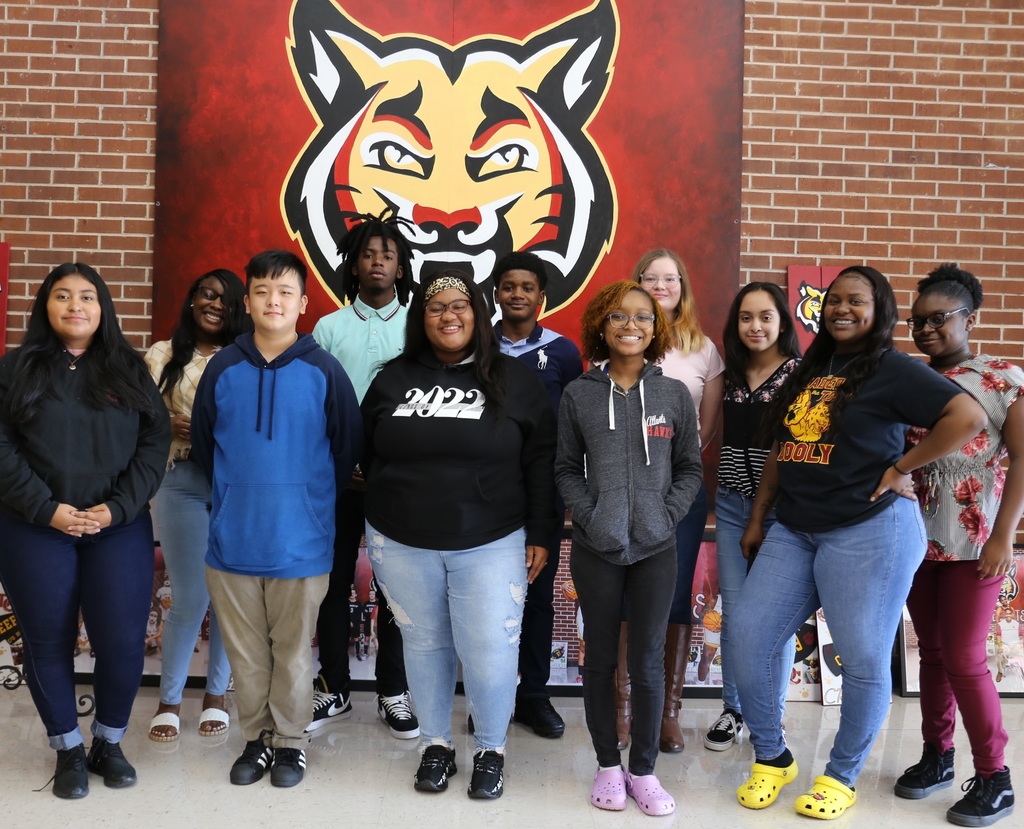 This Month's Coin of Distinction Recipient: Dr. Sherrod Willaford From Captain David Jones, Nominator Dr. Willaford is a great leader that is respected by everyone that has ever met him. He is a seasoned administrator and educator with a great vision of what can be accomplished by the Dooly County School System. He has an obvious love for what he does and does it well. His passion for the success of the students and people under his supervision is undeniable. I have learned that even if you think things are not going as you feel they should, Dr. Willaford is there to encourage you with great words of wisdom and reflection. He is a noble leader and very deserving of the coin of distinction.

We're thrilled to announce Dooly County School System's new app! Access sports scores, cafeteria menus, news updates, even emergency notifications. Download the app on Android:
https://bit.ly/2NQVKSM
or iPhone:
https://apple.co/2ApKEBf
.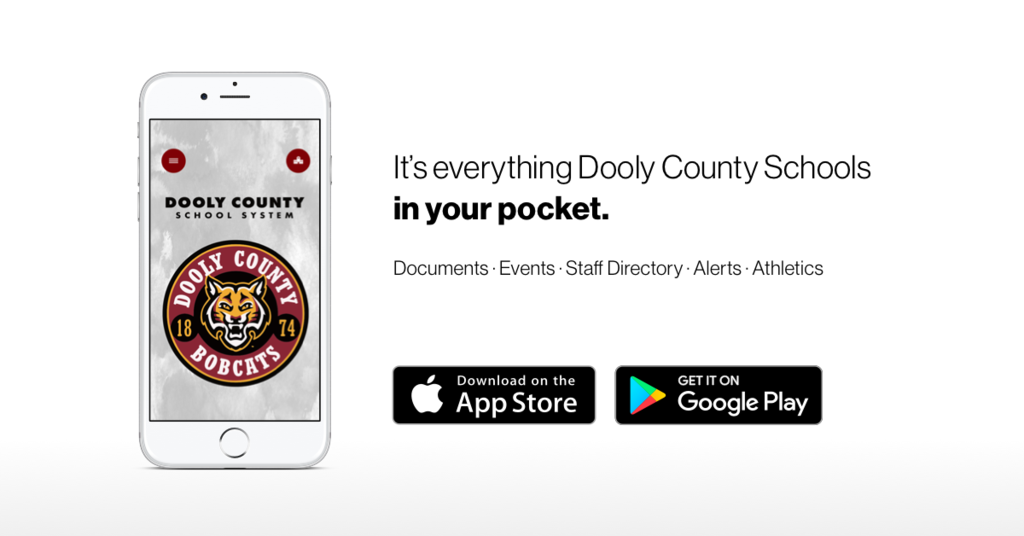 Dooly County School System proudly recognizes the Class of 2021-22 Teachers Matter! Educators. These teachers are recognized for going above and beyond by earning additional endorsements to their teaching certificates. These Teacher Leaders are working hard to improve their craft so they can be better teachers for students. Each recipient receives an annual stipend for earning endorsements as well as the title of becoming a Teacher Leader. Congratulations!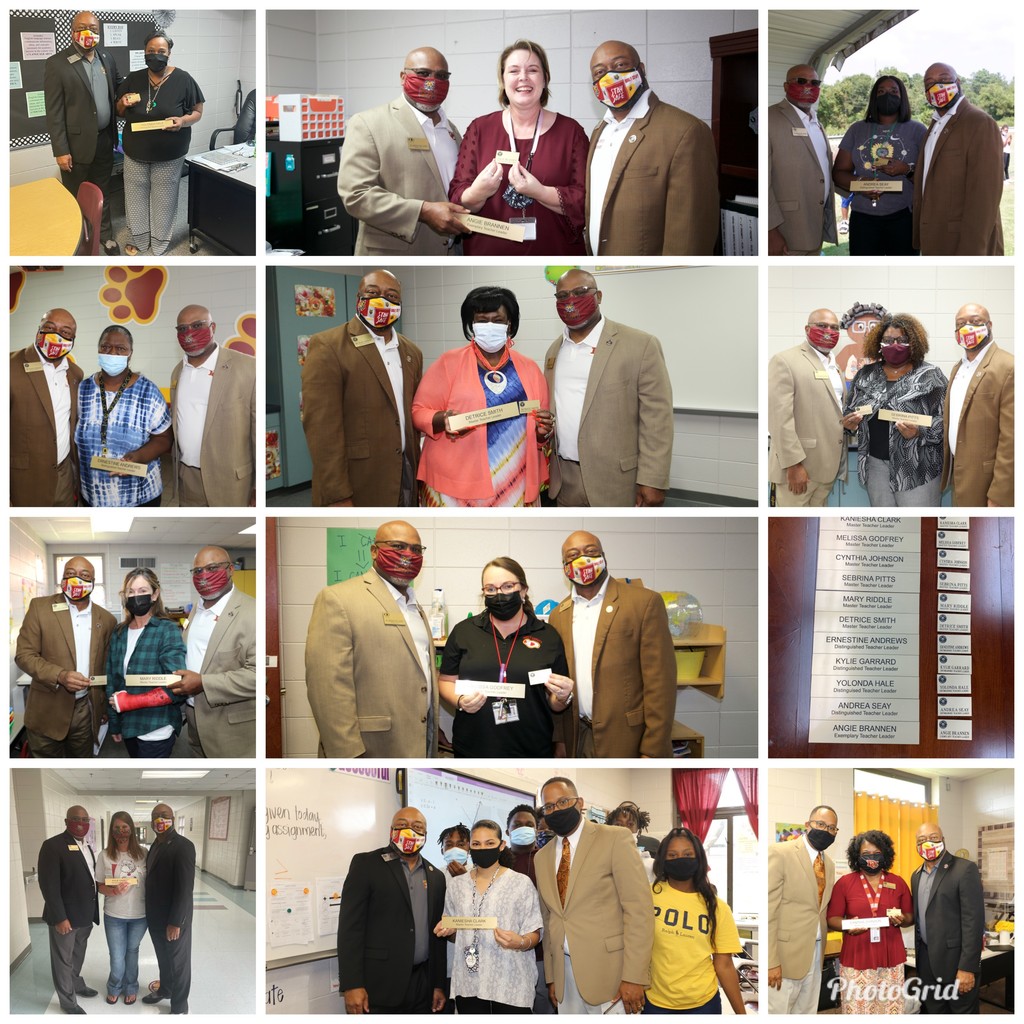 THIS MONTH'S COIN of DISTINCTION RECIPIENT: Mr. Marvin Williams From Captain David Jones, Nominator: "Mr. Williams is a man of many hats. I am not exactly sure what his job description is, but it probably falls under utility player because he can do anything asked of him and does it all while wearing a smile. Mr. Williams selfless service does not go unnoticed as he is well liked and respected by his peers and the students he encounters every day. If you can't find Mr. Williams in the media center, just check the cafeteria, the hallways, a classroom, or heading up the concession stand. He is a jack of all trades with a dedication of loyal service to this school system and I highly recommend him for the coin of distinction." It's a GREAT Day to be Bobcat!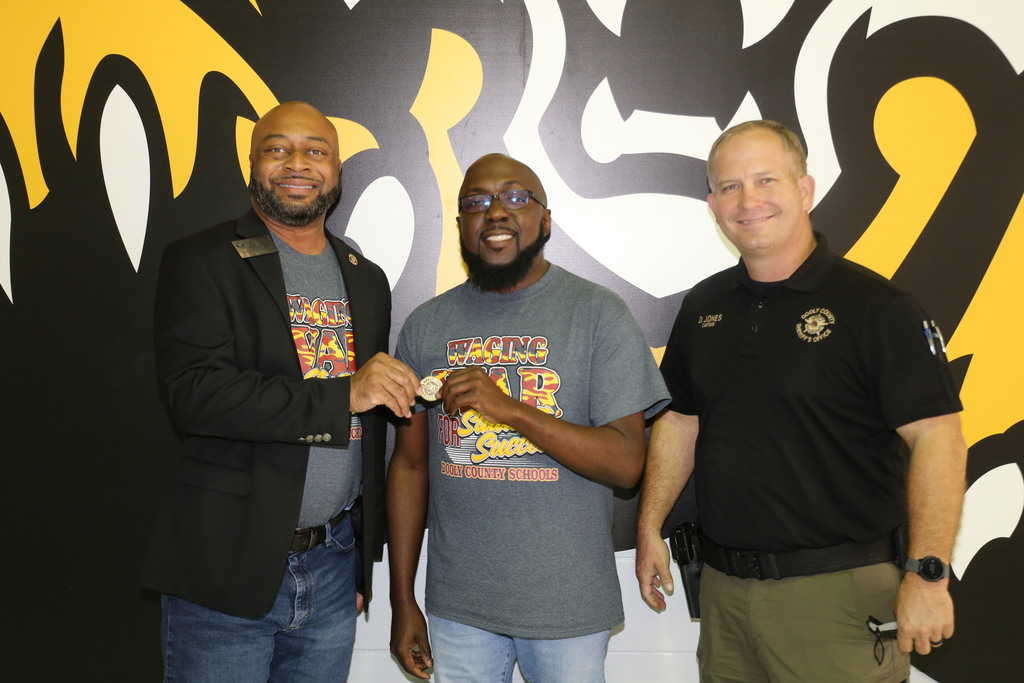 This is a reminder that the Annual Title I Parent Meeting for Dooly K-8 will be held tonight, August 26, 6 PM. You may attend in person or virtually using the GoToMeeting link found on the District webpage under News. Those attending in person should follow established COVID guidelines.

The Dooly County Board of Education will have a called board meeting on Friday, August 27th, 2021, at 12:00 p.m. in room 101 of the Central Office located at 202 E. Cotton, Street, Vienna, GA 31092 (media only due to limited seating and the CDC guidelines). The primary purpose of the meeting is the Millage rate, Chromebooks, and calculators. The public may view the meeting via Facebook Live from the Dooly Schools Facebook page.

Phoebe Wellness Clinic will administer the COVID-19 vaccine to GA residents ages 12 and up at Dooly County High School on Thursday, August 26th from 9 A.M. until 4 P.M . Appointments are requested. Call 229-312-M.Y.M.D. Walks up are accepted. You will be asked to wear a mask, be evaluated for COVID symptoms, be allowed to bring one person with you, and be asked to remain in the area for 15 minutes following the shot for evaluation.