The away girls basketball game at Telfair County has been closed to the general public on Monday, February 1. GHSA and region passes will not be accepted. Each student athlete will receive two tickets for their mother and father.

We will have twenty-five tickets to sell for the Johnson County game. Parents will have the first option buy tickets for this game. For the Monday game verse Telfair, tickets will be sold at the door. We will be allotted fifty tickets for the Wheeler County game. Parents of student athletes will be given the opportunity to purchase tickets first. Parents please purchase all your tickets at one time for the games. Leftover tickets will be sold to general public, after 12:00 noon Friday, January 29th. Tickets can be purchased at front office of DCHS. Once capacity is reached, no Georgia High School Association passes will be accepted.

The door prize winners from the January 26, 2021 Virtual Title I Parent/Family Engagement meeting are: Philise Johnson and Minnie Walker! Congratulations on winning a fruit basket! Mrs. Burden will be in contact soon.

Parents are invited to attend the Virtual Title 1 Family Parent Engagement Meeting over Virtual Literacy tonight, January 26, at 6 p.m. Please go the the district website for the meeting link under News.

​Bobcat stakeholders - please be advised that the return to physical instruction at school for students has changed to February 1 due to the increase of COVID numbers. All students will continue working virtually until February 1. Thank you for your support and please stay safe!

Bobcat Nation, Based upon recommendations for our local DPH, we are limiting spectators to parents/legal guardians of basketball players and cheerleaders. GHSA pass holders restriction due apply.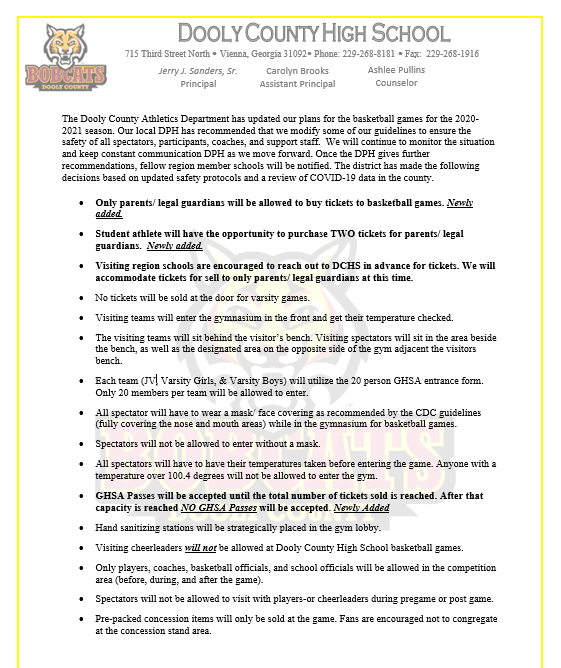 Congratulations to the door prize winners from last night's Virtual Title 1 Parent/Family Engagement Meeting: Ms. Keeshia Carter and Ms. Rhonda Oglesby! Ms. Burden, DCSS Family Engagement Liaison, will reach out to you about receiving your fruit baskets. Happy holidays!

Dear Bobcat Nation, On December 13, 2020, the school system has been notified that a staff member has recently tested positive for COVID-19. The staff member was in close proximity to other staff and our boys' and girls' basketball teams last week. Out of an abundance of caution, we are transitioning to 100% virtual learning for December 14-18, 2020. All basketball games will be postponed until further notice. While we understand this may be an inconvenience for some, please understand that the safety of our students and staff is the highest priority. As we get ready for Christmas vacation, we ask that everyone please take extra safety precautions so that we all can have a safe and happy holiday season. Respectfully, Dr. Craig Lockhart Superintendent, Dooly County School System

Bobcat Nation, The basketball tickets will be presale only. The cost is $7. There will only be 75 tickets sold.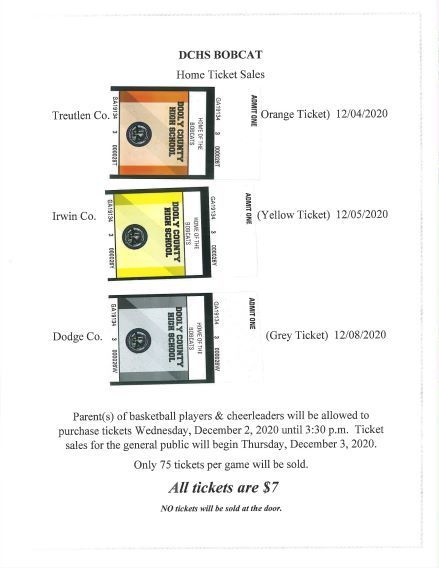 Dear Bobcat Nation, We are requesting students to log into Google Classroom to submit Friday's assignments for attendance purposes. In- person students need to bring fully charged devices to school with charger.


Greetings Students, We are excited about your return to the building this week. Please remember to your charge your Chromebooks and laptops and bring them to school with you. Thank you!

The high school senior-parent night has been canceled for October 30th. It has been rescheduled for Wednesday, November 4th at 5:30 p.m. in the high school cafeteria. We thank you for your support!

The high school senior-parent night has been canceled for October 30th. It has been rescheduled for Wednesday, November 4th at 5:30 p.m. in the high school cafeteria. We thank you for your support!

Parents, There will be a parent night to share information about returning to school. Please see the flyer for details.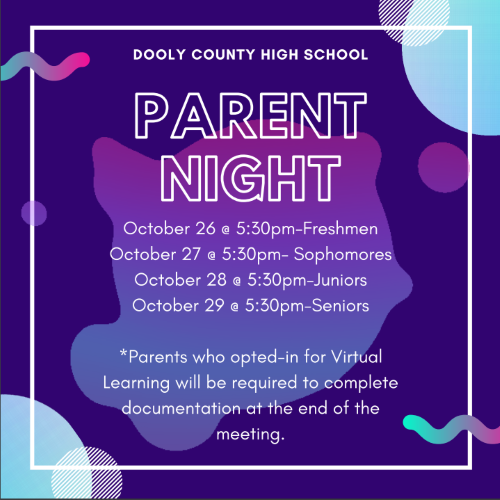 The high school fishing pond is opened for DCSS students only - by reservation - on Saturday, October 17, 7 a.m. to 4 p.m. for 1 1/2 hr time slots. You must provide your own equipment & bait. Contact Mr. Teeple at 828-391-0537.



Title 1 Family Engagement Survey Dear Parents, Our school conducts outreach to all parents and family members and supports successful school and family interactions. Your help in planning these family engagement efforts is appreciated. Please complete the following survey in an effort for us to help support you and your child's educational learning and educational success. Please click on the link below for the survey.
https://www.surveymonkey.com/r/W7JGNHC